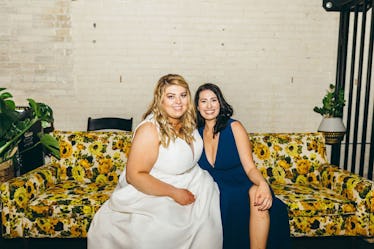 The Importance Of Your Maid Of Honor Is Much More Than A Cool Title
In your lifetime, you may take on a lot of different titles. You may be a student, a roommate, or a boss. You may be a best friend, a significant other, or a "cool aunt." Each one of these titles will come with their own responsibilities, memories, and importance. But, possibly one of the raddest parts of life is not just taking on different titles, but giving them to the people you care about the most. For example, when you're getting married, you may ask your sister-in-law to be a bridesmaid, or your work wife to be your maid of honor. (Now, that's a big title to have.) Do you know the importance of your maid of honor? It's so much more than you may think.
Now, I've been to a few weddings, so I know how things normally go. You'll stand with your significant other and say, "I do." You'll exchange rings and vows, promising to love and support each other forever. There will also be a few people standing by your side: your maid of honor, your bridesmaids, an officiant, and the rest of the bridal party.
These are the people who love and support you and your significant other. They're glowing at the thought of you growing together, and all the memories and milestones that are to come. Possibly the most important among them, though, is your maid of honor for these five reasons.