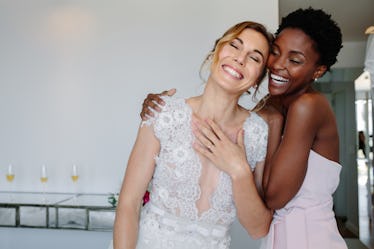 7 Thoughtful Things Every MOH Should Do For The Bride The Week Of The Wedding
You have been blessed with the title of being a maid of honor. Being chosen as the one person your BFF wants right beside her on her special day is such a rewarding feeling. Taking on all of the tasks that come along with being a MOH, you've made a vow to impress the heck out of your bride. That means it's your number one priority to make sure everything goes off without a hitch, and your BFF bride feels like royalty. The week leading up to the wedding is the most stressful, so you should consider some thoughtful things the maid of honor should do to help keep your friend calm and happy.
Not only are you the BFF, but you are also the unofficial wedding planner. Being a maid of honor isn't just for anyone. It takes a true friend who genuinely wants her best friend's wedding to be as magical as she is. Plus, it wouldn't hurt to be crowned the most awesome MOH to ever live, am I right?
You're already handling writing a speech, running errands, and tracking down any final wedding day details as part of your MOH duties. These seven things you can do for your friend the week leading up to the wedding add to the icing on the cake. And boy oh boy, is there a nice cake waiting for you both at the end of this magical journey.