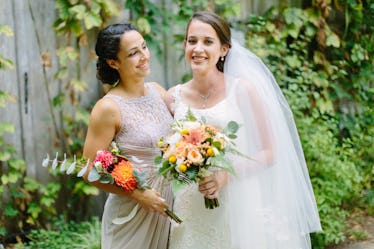 The Type Of Friend Who Should Be Your Maid Of Honor, Based On Your Zodiac Sign
When you're going through the jumbled mess and circus of coordinating and planning your wedding, it can be overwhelming AF. And just before you are about to burst, a soft hand touches yours and says, "I got you, girl." This is the hand of your maid of honor. You need to know exactly who you should ask to be your maid of honor, based on your zodiac sign, because you are going to need her dedication and support to make your day so very special.
The maid of honor is basically the girl who doesn't take sh*t from anyone and counteracts any could-be problems that might potentially stress you the hell out. Think of her as Wonder Woman, but instead of blue and red spandex, she is wearing whatever color dress you want her to. She is the damage control person and the one woman you can confide in throughout the entire process, leading up to your big day. Seriously, she is a heaven-sent ride or die, and she has your back no matter what.
Your maid of honor has to get you. It's important that they know the exact vision you have for your wedding, but also know you on a personal level and can help you delegate. Choosing a maid of honor is not like picking out a pair of shoes. She has to do more than just fit — she has to keep you lifted and focused on the main goal here, which is getting married the way you want.