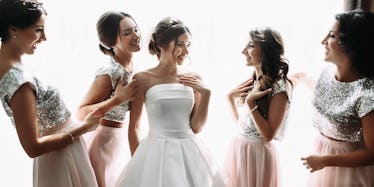 6 Reasons Why Your Sister Makes The Best Maid Of Honor
IVASHstudio/Shutterstock
You can't deny the amazing euphoria of a wedding.
And if you're the bride, you'll experience an entirely different roller coaster of emotions you can't truly fathom until you walk down the aisle.
Like every other major milestone in your life, your sister is right by your side through it all, as she should be.
Needless to say, if you have a great relationship with your sister, picking her as your maid of honor is a no-brainer.
It's like your parents handed you the deluxe package when they had your sister. She has always put on any hat needed of her at the time, like being an amazing friend, confidant, and protector. And now, she'll put on another one as your maid of honor and totally slay it.
There are more than enough reasons why your sister would absolutely be the greatest maid of honor you could imagine.
1. She Knows You Better Than Anyone
There's nothing more overwhelming than getting suggestions from people who know nothing about your taste, style, etc.
Because your sister has been there for everything (and I mean, everything), she will certainly alleviate any unnecessary stress and baggage.
2. Her Speech Will Be Legendary
Grab the tissues, because your sister's speech may start off comedic, but will definitely include those things you don't necessarily say on a daily basis, like how much you care about each other.
3. She Won't Let Anyone Ruin Your Day
Remember that protector quality? Your sister will immediately become that 7-foot bouncer at a club door to make sure nothing and no one can potentially ruin your day.
That will not only be comforting as hell, but it's one less thing you have to worry about. She has you covered, like always.
Think of all of the wild times you've had with your sister and bundle it into one night. That is how epic your bachelorette party will be.
Your sis will bank on the idea she knows what you like to do and will amplify the night.
5. She'll Genuinely Help You With The Tough Stuff
Wedding planning is stressful.
Not sure how to seat relatives who have beef? Afraid to tell people they aren't invited? Your sister has no problem taking on some of this weight.
You both have been there for each other during tough times, and this is no different.
With your sister as your maid of honor, you know she will, without a doubt, keep the bridesmaids coordinated to fulfill whatever you envision for your wedding. Besides, think about how good she is at telling you what to do.
Having your sister as your maid of honor will not only make your wedding that much more memorable, but will strengthen the bond you two have.