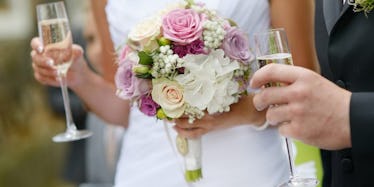 Maids Of Honor Share Intense Part Of Their Wedding Toast That Made Bride Ugly Cry
Shutterstock
One of the hardest, scariest moments of being a maid of honor isn't having to plan a fun bachelorette party or decide which games to play during the bridal shower.
No, it's coming up with what the heck to say during your wedding reception toast.
Whether you've known the bride since you were both in diapers, or you recently got close with her and have no idea what kind of stories to include in a speech, figuring out what to say can be a challenge you stress over up until you find yourself with a glass of champagne in one hand and a microphone in the other.
Wondering what not to do? Here are lessons learned from six maids of honor who say their wedding toasts made the bride ugly cry – and not with tears of joy.
1. I brought up her ex.
I don't know what I was thinking. I guess I thought it would be funny to mention in my speech how the bride loved her ex-boyfriend so much, but then, one day, he randomly broke up with her, and then, a week later, she met her husband. I guess it brought up some emotional memories for her because she started crying. I honestly think she still loves the other guy more and wished she was marrying him. I didn't mean to make this a mess, but I totally did.
— Emma S., 24
2. I got so drunk I passed out.
I took a little too much advantage of the open bar to kick some nerves I had about giving my maid of honor toast. Mid-way through the speech, I passed out. It was definitely a combo of being so drunk and so nervous. She was so mad at me that she cried for a good hour after this happened.
— Dana G., 29
3. I tried to kiss the groom.
I blame this on the vodka, but during my speech, I decided to sit on the groom's lap, and I guess I got so touchy-feely that I tried to kiss him. I don't know. I kind of blacked out. The bride pushed me off of him, and then, everyone said she was crying like a baby and screaming at me for being a bad and jealous friend. Please. I didn't want to kiss him. I was drunk.
— Chana S., 27
4. I talked bad about marriage.
I'm single and have been a maid of honor almost 10 times in four years. I'm over it. During the last toast I gave at a friend's wedding, I talked about how I'm not quite sure marriage is always the answer and that some of my friends are already divorced. I went on to say congrats to the couple, but my toast made the bride very upset. Apparently, someone saw her crying in the bathroom, saying I was messing with her mind because she was now questioning whether or not she really wanted to be married.
— Lucy R. 29
5. I announced I was pregnant.
During the MOH toast I gave, everything was going well. Then, I decided to announce I was pregnant. I guess I stole the spotlight a little too much because the bride, my cousin who wanted to be beat me to having babies, grabbed the mic away from me and started to ugly cry. She was jealous, and maybe I was wrong by announcing it then and there, but a lot of my family was in the room, too!
— Marissa W., 31
6. I didn't remember to give one.
I spent so much time planning the bachelorette party and bridal shower that I forget about giving a toast. When the DJ handed me the mic, I said just that and sat down. I was too nervous to speak on the spot. The bride was so upset with me that I didn't have anything planned. She was such a bridezilla, and I felt like what I did was a final slap in her face for being so demanding.
— Norah Y., 28