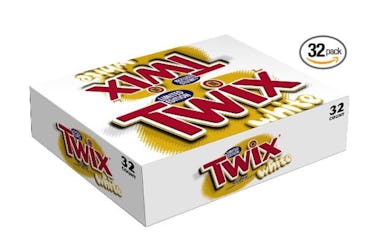 White Chocolate Twix Are Making A Comeback & We Can't Wait To Stock Up
There's nothing more satisfying than a piece of chocolate, but sometimes, even those with the biggest sweet tooth crave a little something different. For candy lovers in need of a chocolate time-out, look no further. Many are beginning to wonder when white chocolate Twix will be available, and the good news is the tasty alternative is just about ready to hit the shelves.
Though it unfortunately won't be available in time for Halloween (a bummer if ever there was one) Twix White will be offered in single, 2 to Go bars, and Fun Size bags beginning in November. A limited-edition white chocolate Twix made an appearance last year, and will thankfully make a triumphant return for good. Before 2016, the white chocolate Twix bars were last available in 2005 — what seems like another century. A comeback was certainly in order.
Customers are going to want to sink their teeth into one of these bad boys immediately. The shortbread cookies and caramel combo will be topped with milky white chocolate and offer pure bliss for fans looking to channel their inner Willy Wonka. Thanks to the treat's November arrival, we give you permission to celebrate Halloween twice this year. Hallelujah.
Can't wait another few weeks? No judgement here, folks. Grab your credit card and head to Amazon for a 32-piece box. Though there will be plenty of candy bars to go around, you're most likely not going to want to share with the neighborhood. (Sorry kids, Halloween's over for you.)
Many people are excited to take a bite of the white chocolate deliciousness — and you can't blame them.
In other news in the candy realm, Twix also brought back its peanut butter flavor in September, so those who are in search of another Halloween candy to pass along to trick-or-treaters (or enjoy themselves) are in luck. There is one slight catch, however — the snack is rather difficult to find. In fact, it's so difficult that a hashtag #FoundNewTwix made the social media rounds, thanks to the brand itself. If hardcore trick-or-treating isn't up your alley, just order the peanut butter snacks from Amazon (the lazy and preferred method).
Speaking of laziness, there is definitely a way to make your Halloween party goers believe you've got everything down pat (when in actuality you're a hot mess). There are super creepy, kooky, and (most importantly) quick ways to give your party the ultimate spooky treatment with minimal effort. Try the spiderweb bean dip or white chocolate Jack Skellington Oreo pops for a scary aesthetic with a quick turnaround.
While you're feasting on your Halloween snacks and candy, there are other party factors to consider, the most obvious being the entertainment. There are plenty of Halloween party games to keep guests entertained in between bites of sweets. Looking for something challenging? Why not throw a murder-mystery theme into the mix? Want to unleash your creativity? It's time to have a pumpkin carving contest (and if you're out of pumpkins there are substitutes that work just as well).
Now that you've thought about the games, it's time to consider a Halloween theme for your party. Perhaps you're a Nightmare Before Christmas kind of girl. If spooky isn't really your M.O., channel Disney's not-so-spooky Halloween vibe. Or, if you love horror as much as Pennywise loves eating children, channel Stephen King's fan-favorite, It, and decorate with floating red balloons that will make the sewer seem less frightening than your apartment.
It's time to get excited folks — the treats and celebrations are endless. Happy snacking, and of course, Happy Halloween.
Check out the entire Gen Why series and other videos on Facebook and the Bustle app across Apple TV, Roku, and Amazon Fire TV.