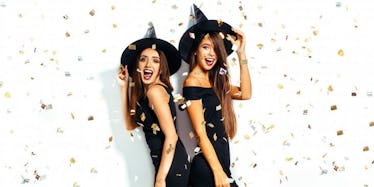 These 8 Creative Halloween Party Themes Deserve All The Gold Stars
xerox123/Fotolia
However you celebrate Halloween, you're sure to come across a party of some sort. College campuses and offices seem to be places where seasonal gatherings make for the best times to mingle and socialize, so you know there will be a Halloween celebration nearby. If you're the one in charge of the planning committee this year, you definitely have your work cut out for you. Halloween party themes are easy to come by and will surely impress your guests.
Pinterest and the online community are here to back you up on all of your festive party needs. You can find themes, games, and DIYs of all kinds; basically all of the hard work has already been done for you. All you need to do is recruit some friends or colleagues to put together your vision, and you'll be ready to dance the night (or afternoon) away.
Everyone will be talking about your epic Halloween bash come the morning of Nov. 1. You'll definitely be recognized for all the effort you put into your party planning, but don't forget to thank your friends on Pinterest. Take a trip to the party store, and get ready to have a great time with these epic Halloween party theme ideas.
1. Black, White, And Orange
Creative Ideas for #Halloween Party Themes - https://t.co/f8KMJFsUPn pic.twitter.com/Zx8ed551MA — BrookfieldYYC (@BrookfieldYYC) October 14, 2016
When in doubt, you can't go wrong with a festive color scheme. It's easy to find treats and decor in certain colors, especially around a holiday, so your pre-party shopping shouldn't be too difficult. Dressing for your theme is even easier.
2. Spooky Circus
HALLOWEEN PARTY THEMES GREAT FOR ALL AGES...: https://t.co/ZfcnHcnRI9#picsandpalettes #Halloween #stumpsparty pic.twitter.com/RGv5wSm87A — Pics and Palettes (@picsandpalettes) October 25, 2015
This theme may not be for everyone (i.e. those who aren't into scary movies), but with the recent popularity of the movie IT, this party just might be an incredible hit. Carnival games are a classic way to get your guests up and laughing, and they can be made from scratch in a matter of minutes. Just don't forget to have some sweet treats on hand for the winners.
3. Disney Halloween
The balloons are ready for tonight's Halloween party #MNSSHP pic.twitter.com/5eIDnill9N — Wendy (@OutpostOrlando) September 17, 2017
If you can't make it to the Happiest Place On Earth this Halloween season, you can create something that's just as fun. You're never too old to enjoy the magic of Disney, but this is probably the perfect theme for a family party when kids will be around. There are tons of characters and movies you can incorporate, so you'll never run out of ideas.
4. Costume Contest
Check out our member-led Halloween party. As spooky as it was fun. https://t.co/A1buStI9uh pic.twitter.com/QfpQclo3MH — Common (@hicommon) September 17, 2017
If your party is based around an activity, you can never go wrong with a costume contest. Most people dress up for Halloween with or without an incentive, but a contest and a prize never hurt anyone. You can make things a little more interesting with themes and categories.
5. A Witching Good Time
Back Porch Halloween Skeleton Party https://t.co/bKcoF2DwHe pic.twitter.com/X0qVPw6H9y — Home Repair Tips ™ (@DIY_Repairing) September 17, 2017
The witch is a well-known and well-loved Halloween character who you can incorporate into almost anything. You can make witch-themed treats and wear witch hats, at the very least. If you're up for a challenge, look up some decor tutorials online and give it a go.
6. Glow In The Dark
Cauldron Halloween Slime Cauldron Halloween slime party favors made with glow in the dark slime, eyes, pumpkins, … https://t.co/maSMn7R7vO pic.twitter.com/XdejBoXotx — Arlene's Costumes (@ArlenesCostumes) September 17, 2017
For an epic nighttime party, get decor that glows in the dark. If your guests don't want to come dressed up, they can wear white and watch themselves glow under the blacklights. Glow sticks and glow in the dark body paint is easy to find in any party or Halloween store.
7. Candyland
Check out this awesome Candyland Halloween party! The cake is amazing!! https://t.co/waIIGeKLAG #partyplanning pic.twitter.com/A8yaXl08qt — Catch My Party (@catchmyparty) September 16, 2017
For some, Halloween is all about the sweets. If you don't want to go trick or treating as an adult, you can indulge yourself and your guests with some delicious themed desserts. Tons of DIY opportunities await.
8. Ghostbusters
Thanks for a great party last night @spindogs! Go team @acttrainingltd for winning best dressed! #Ghostbusters#nightatthemoviespic.twitter.com/vxXh6gGjxX — Megan Evans (@meganevans61) July 7, 2017
Get your ghost on this Halloween. A Ghostbusters theme gives plenty of opportunities for decor, treats, and games. Bonus points if you show up in costume.