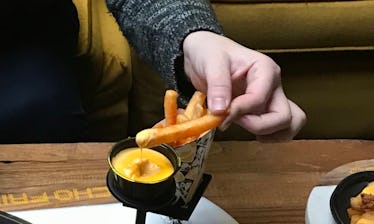 Taco Bell's Nacho Fries Are Being Taken Off The Menu, But Not For Long
Lizzy Rosenberg
If you're at all in tune with the wild world of Taco Bell, you've probably ordered (or heard about) Nacho Fries. And as someone who did, in fact, get the glorious chance to indulge in the delectable dish, I am absolutely distraught that their time is coming to an end. Since fans of the 'Bell are probably wondering when Taco Bell's Nacho Fries will be available again, the answer is "soon." Thankfully, the Tex Mex treasure will not be gone for eternity after they disappear in early April.
For just a buck, Taco Bell's Nacho Fries were the savior of my weekends. They were the hero during my longest workdays. And, of course, they were an on-the-go traveling necessity. Based on my relationship with Taco Bell's Nacho Fries, you could probably imagine that the news of their departure from Taco Bell's menu was totally and utterly soul-crushing. In fact, it may have been the worst news of 2018. When I first heard about it, I think I truly experienced heartbreak, and heartbreak is no joke.
But alas, there is a loophole to their rumored limited availability, and life, once again, has meaning. According to a press release, the elusive Nacho Fries will not be gone permanently after their early April departure. After their success earlier this year, Nacho Fries are expected to gloriously return sometime this summer. As The Beatles once said, "Nacho Fry fields forever." That's what the line is, right?
Over the next week until early April, fans will still be able to get their hands on Nacho Fries... while supplies lasts, at least. Their availability, per the release, was already massively extended after the launch's extreme success in January. So really, they existed longer than they were meant to, and I'm personally not mad about it.
If you haven't yet tasted life's crispiest treasures known to man, don't worry — I have you covered. Nacho Fries taste unlike any other typical cheese fries you've yet to try. The fries themselves stay extra fresh, because the carton separates them from the gooey, warm cheese. This also presents customers with freedom to dip as wanted, and I am personally so about it. The actual fries are also rubbed in a classic taco seasoning, and just one carton only comes out to a mere $1. Nacho Fries are the literal dream, guys — so get 'em now.
If you're extra hungry, customers can also get their hands on a larger Supreme helping for $2.49, and a Bell Grande for $3.49. The Bell Grande is a little different than a simple helping of Nacho Fries, though. It consists of seasoned fries, complete with a helping of seasoned beef, pico de gallo, nacho cheese, and, of course, sour cream. They're kind of like nachos with all the fixings, but swapping tortilla chips for seasoned fries. And in reality, the result is so, so magical.
To hold customers over until Nacho Fries return this summer, Taco Bell is coming out with hot sauce-flavored tortilla chips... and they sound like a damn dream. Debuting in May 2018, customers will be able to choose from three flavors, including: Fire, Mild, and Classic. The Fire and Mild flavors will reportedly resemble the taste of the Taco Bell sauces. The mild chips are said to taste like three chili peppers and cumin, while the Fire chips will supposedly taste like jalapeño, chili peppers, and paprika. So count me in, y'all.
If the end to Nacho Fries had you spiraling into an inevitable state of depression, don't fret, because they're coming back soon. But if you're not mentally prepared to wait super long, make a point to get your hands on them this week while they're still around.