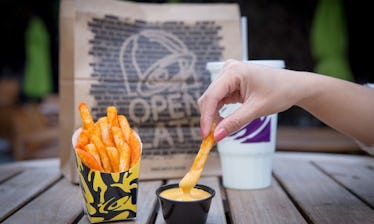 Taco Bell's Nacho Fries Won't Be Here Forever, So Get Them While You Can
If you've been living under a rock, or trying to stick to your New Years resolutions (Godspeed), you may not know about the amazing menu item that Taco Bell has decided to bless us with in 2018. For those of you who are down to indulge, but just haven't heard the news, here it is: The home of the Quesarito, the Crunchwrap Supreme, and the Cheesy Gordita Crunch is now serving French fries. But these aren't just any old French fries, dear reader. They're heavily seasoned and come with a delicious cheese dipping sauce. So just how long are Taco Bell's Nacho Fries available? Run fast, so you can live más.
According to Taco Bell's website, the Nacho Fries are only around for a limited time. You can order them a la carte, or you can add them to any meal for just 49 cents. So whether you're just looking for a snack to hold you over, or trying to ball out with a full meal, you can test out the hot new item.
As a Taco Bell fanatic, I know all too well what to expect from these bad boys, and have been counting down the seconds until I can experience them since I first heard about their release. But if you don't know a lot about the Taco Bell menu, here's some basic background on the fries.
They're bold
We all love a good salted french fry; it's simple, it's elegant, and it's a classic. But Taco Bell has gone the seasoned fry route, with bold, smoky Mexican seasoning, a la the Cheesy Fiesta Potato (another classic).
They're dippable
I'm not just talking ketchup here, people. These fries come with that warm, creamy cheese that anyone familiar with the Bell is all too familiar with. Wanna up your dip game? Consider mixing in one of Taco Bell's classic hot sauces, like Fire or Diablo. Oh yeah.
They're affordable
My only motivation for not eating out so much in 2018 has been that it's expensive. Even a fast food indulgence can set you back $10 or so, depending on your usual spot. But now, my resolution is out the door, since Nacho Fries are just $1. That's right — one puny dollar. Got $5? You've got five orders of Nacho Fries, my friend.
"We believe passionately that people should have more than just the ability to eat for $1; they should be able to feast," said Taco Bell's Chief Marketing Officer, Marisa Thalberg, in a statement. "We are (and always have been) committed to coming up with the most craveable, creative menu items that set the bar for what great food at a great value should be."
You Can Upgrade Them
If you're looking for a full nacho experience, you can order your nacho fries "Supreme" or "Bell Grande." If you don't speak Taco Bell, these upgrades include add-ons like beef, Pico de Gallo, nacho cheese, and sour cream. Oh, and I almost forgot to mention the new $5 box, which comes with fries, a Doritos Locos Taco, a Cheesy Gordita Crunch and medium drink. Talk about living más.
Now, I'm going to be up front here: The reviews of the fries have been mixed. While some have said that the Nacho Fry is the holy grail of Taco Bell's $1 Cravings Menu, others have stated that it leaves a lot to be desired. Still, though, you really can't beat the opportunity to try a new menu item for only a dollar.
The fries officially rolled out nationwide on Jan. 25, which means your local Taco Bell likely has them. It's time to boldly go where no French fry has gone before.
Check out the entire Gen Why series and other videos on Facebook and the Bustle app across Apple TV, Roku, and Amazon Fire TV.