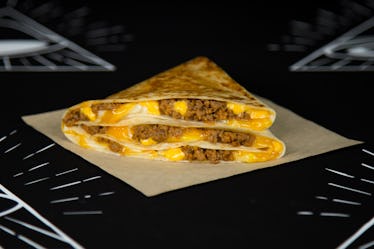 The Taco Bell $1 Stacker Just Hit The Menu, So It's Time To Stock Up
Taco Bell
One of your favorite fast-food chains is here to make sure you're getting the most bang for your buck — literally. Beginning Tuesday, Dec. 5 and continuing into 2018, Taco Bell will roll out 20 new Dollar Menu items that'll leave your stomach and wallet full. The Taco Bell $1 Stacker kicks things off, and it's a treat you're not going to want to miss.
Joining the ranks of the Beefy Fritos Burrito and the Spicy Tostada, the Stacker — complete with a tortilla, beef, nacho cheese sauce, and three-cheese blend — will not only be on the Dollar Menu, but it'll be on the Dollar All Day Menu beginning Dec. 21. Whether you're getting a craving before you had your morning cup of Joe, or if you're in need of dinner before bed, you can fill up with the Stacker any time of the day. For breakfast, the Stacker includes tortilla, eggs, nacho cheese, and a three-cheese blend (with a choice of bacon or sausage for $1.49 or no protein for $1). These options are certainly staying true to the live mas mentality.
Regardless of the time of day you place your order, Taco Bell wants to make sure you're getting a great taste, even if you're only paying $1. "We believe passionately that people should have more than just the ability to eat for $1; they should be able to feast," Taco Bell's Chief Marketing Officer, Marisa Thalberg, said in a statement. "We are (and always have been) committed to coming up with the most craveable, creative menu items that set the bar for what great food at a great value should be."
Cheers to that. You'll be ready to stack up on these dollar menu items once you make your way to the restaurant. It's go time, folks.
The great thing about the current 20 Dollar Menu items — and anxiously waiting for 20 different options in the new year (hurry up, 2018) — is the fact that they're not just sides, they're hearty meals, even if they're only available for a limited time. Taco Bell's Dollar Menu might not be so new, but its commitment to rolling out more options certainly is, and you cannot help but be grateful for these innovations. Why yes, Karen, we do want to go to Taco Bell.
To celebrate the occasion accordingly, it's probably a good idea to deck yourself out in Taco Bell attire from Forever 21. Not only are these items super stylish, but they're perfect Christmas presents for your BFF (who will probably want a Taco Bell gift card, too). Let's taco about all the delish details, because you need the scoop on these adorable items.
Women will find tanks and tops, cropped hoodies, and bodysuits. Sweatshirts, hoodies, and anorak jackets are available for men. None of the offerings exceeds $30, so it's totally doable for Secret Santa.
"We've seen our fans get individually creative in expressing their love for Taco Bell through fashion, and we believe this collection with Forever 21 is going to be everything they would expect from us in extending the Taco Bell lifestyle to fashion: original, affordable, creative, a little quirky, and definitely fun," Thalberg further stated.
Let's be honest: You need that cropped hoodie.
Don't forget about this sweet shirt.
Bae needs to get in on the action, too.
Everyone is totally hyped about this partnership — a creative collab if ever there was one, right? Let's face it: There's nothing quite as satisfying as a delicious meal and an adorable outfit. This line was destined to be a win-win from the get-go, if you ask me.
So while donning your hoodie, get ready to enjoy a $1 Stacker (or several — no judgment) while waiting for 2018 to unveil even more wonderful treats. It's surely going to make the new year a whole lot tastier. See you in line.
Check out the entire Gen Why series and other videos on Facebook and the Bustle app across Apple TV, Roku, and Amazon Fire TV.