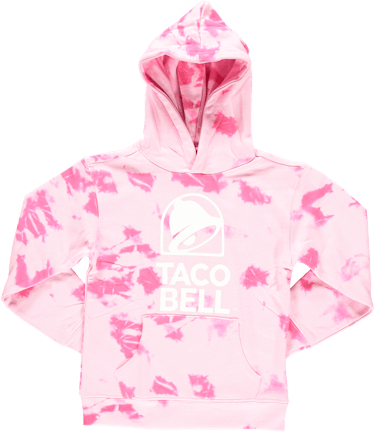 The Entire Taco Bell X Forever 21 Collection Is Out & We Need All Of It
Taco Bell X Forever 21
The time has come to really embrace the "live mas" spirit. From here on out, you'll be able to celebrate Taco Tuesday to the fullest, all thanks to a dream team's new project that will leave you craving something saucy with a side of guac. The entire Taco Bell X Forever 21 collection is finally here, and you'll definitely want to snag a few items before your next lunch run. So, what do Taco Bell X Forever 21 clothes look like? Let's taco 'bout all the delicious details.
The line makes its debut on Oct. 11, so you can finally cross the date off your calendar. The items are available online at Forever21.com and in select stores. Women will find tanks and tops, cropped hoodies, and bodysuits. Sweatshirts, hoodies, and anorak jackets are available for men. None of the offerings exceeds $30, so it's totally doable. As the clothing store indicates, it is one saucy collection, and you'll be dying to take a bite.
Everyone is totally hyped about the joint venture — a creative collab if ever there was one. Let's face it: What's more exciting than fast food and a cute outfit? This was destined to be a win-win from the get-go.
"We are excited about this partnership with Taco Bell," Linda Chang, Forever 21's vice president of merchandising, said in a statement obtained by Elite Daily. "Food, like fashion, is driven by trends and culture. Merging fashion and food in this collection gives our customers a new way to experience both our brands."
Likewise, Taco Bell is equally as excited about the cozy clothes that pay homage to the fast food favorite.
"We've seen our fans get individually creative in expressing their love for Taco Bell through fashion, and we believe this collection with Forever 21 is going to be everything they would expect from us in extending the Taco Bell lifestyle to fashion: original, affordable, creative, a little quirky, and definitely fun," Marisa Thalberg, chief marketing officer at Taco Bell Corp, said in a statement obtained by Elite Daily.
Rather than simply sit back and let taco fans do the shopping, the two brands decided to make this an interactive experience. Submitting content using the hashtag #F21xTacoBell allowed some hungry customers to be featured in the F21 and Taco Bell runway show on Oct. 10, according to a statement. Keep checking out the hashtag to see what other inspiring looks are popping up... or perhaps you'll be itching to show off your own saucy shirt or crunchy cool crop sweatshirt.
Clearly, this collab was long overdue. Just take a look at millennial Brittany Creech, the former high schooler who decided to take her senior photos at Taco Bell. Well, that's a lot better than setting up shop in your school's gym, right? You probably spent all of your lunch hour at the nearest location to school, anyway. I applaud her creativity.
This past spring, Andrew McBurnie followed in Creech's footsteps and decided to live mas with a Taco Bell shoot of his own. Again, another clever cleaver. This is definitely the way to go for portrait photography.
Who better to be the face of Forever 21 X Taco Bell than these two? Look how much they're enjoying their unique style. Talk about trendsetters — I say they're destined for a walk in Fashion Week.
If you were planning to get a group of friends together for your next taco outing, why not show your love for your the dish with one of these new outfits? They're cute, affordable, and will get you ready for a Nacho Cheese Doritos Locos Tacos Supreme. Cheers.
Check out the entire Gen Why series and other videos on Facebook and the Bustle app across Apple TV, Roku, and Amazon Fire TV.