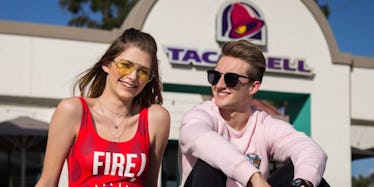 Taco Bell's New Collaboration With Forever 21 Will Spice Up Your Fall Wardrobe
Taco Bell
Remember when a trip to the mall was all about finding a fab new top and then indulging in some food court goodness? Well, Taco Bell is here to bring those memories rushing right back -- with a twist. The fast food chain has partnered with Forever 21 to create a fashion collection that will immediately make you crave a Crunchwrap Supreme -- it's everything you never knew you needed. You're probably wondering when the Forever 21 x Taco Bell collection will be available so you can score the hottest looks this fall.
According to a casting call emailed to Elite Daily from Taco Bell, all Doritos Locos super-fans can get their hands on the Taco Bell-inspired duds when the collection hits stores on Oct. 11 (online and in select domestic Forever 21 stores). The Forever 21 x Taco Bell collection will be Taco Bell's first fashion collaboration -- all those mild sauces you've spilled on your clothes over the years don't technically count as a fashion collaboration. According to the casting call, the partnership makes complete sense because the two brands come together at "the intersection of culture and innovation."
This collaboration is more than simply bringing a throwback mall trip right into your closet (everyone can use a good dose of nostalgia once in a while). Since this collection was created to "celebrate personal style and self-expression," according to the casting call, Forever 21 x Taco Bell will host a preview of the line on Oct. 10 in Los Angeles' Downtown Fashion District. You'll get a peek at the new clothing, which according to the casting call is:
Inspired by iconic graphics that each brand is known for and set against a mix of playfully vibrant prints, the collection features tops, bodysuits and cropped hoodies for women. For men, a sweatshirt, hoodie and anorak jacket are updated with pops of color and distinctive illustrations that effortlessly bring the heat. The exclusive collection also features select graphic tees, a pullover and hoodie for girls.
Seriously, this collection sounds like the best way to switch up your go-to look for fall -- a Fire sauce packet-inspired bodysuit will be your new fave to layer under a flannel.
You'll also have a chance to participate in the preview night by using the hashtag #F21xTacoBell when you submit photos or video content on social media that encapsulates what it means to be "Forever Taco Bell" -- this is where all those late night Cheesy Gordita Crunch runs are about to pay off. The coolest part? Some of the media submitted will be featured in the design details right alongside the models sporting pieces from the collection.
If you want to make sure that your submission gets in, the casting call states that it should represent "your love of Forever 21 + Taco Bell together," and make sure that it "showcases individual style and love of your favorite Taco Bell menu items." So, all you have to do is illustrate your love of affordable, chic AF fashions and delicious Mexican fast-food with a dollar menu to die for? If only finding a ride to the mall when you were 14-years-old was that easy (somehow it always ended up with you bargaining a ride in exchange for babysitting your younger sibling).
The fan interaction doesn't stop there, though. The brands won't be importing glamazons from Milan from the fashion show. Instead, according to the casting call, "a diverse set of fans and influencers with a heart for Forever 21 and Taco Bell" will model the pieces alongside two fiercely loyal Taco Bell customers. You might remember Brittany Creech when she killed the senior portrait game in August 2015. Yep, she took her senior pics at Taco Bell and became the hero we all needed. This past spring, Andrew McBurnie followed in Creech's footsteps and decided to live mas by also taking his senior portraits in one of the chain's restaurants.
If you can't make it to the Oct. 10 preview, you should make sure you're following Taco Bell and Forever 21 on social media so you don't miss any behind-the-scenes action. Until then, you can show your "Forever Taco Bell" love with #F21xTacoBell -- and by picking up some Cheesy Fiesta Potatoes.
Check out the entire Gen Why series and other videos on Facebook and the Bustle app across Apple TV, Roku, and Amazon Fire TV.