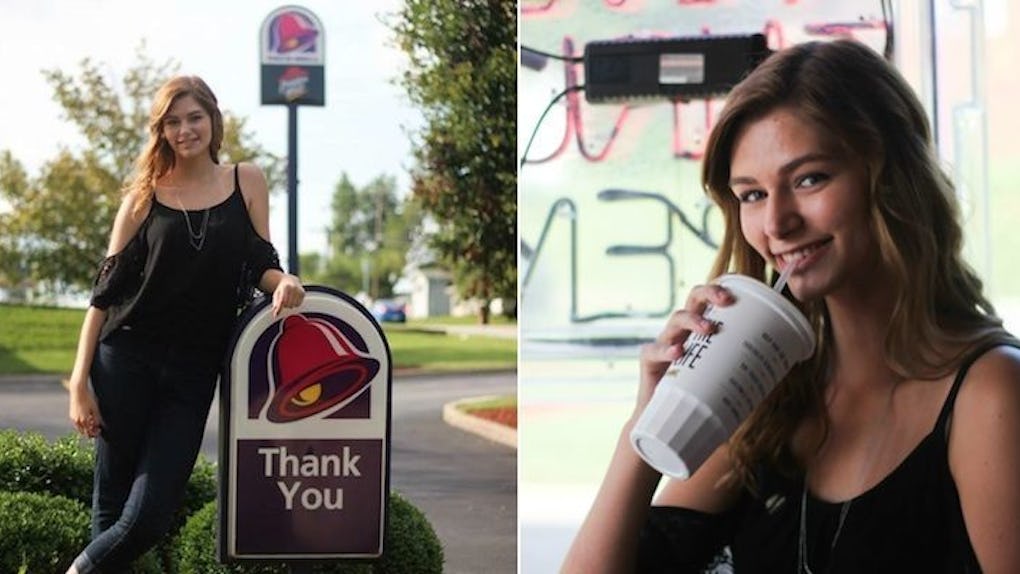 Brendan Batchelor Photography
This Teen's Senior Photos Inside Taco Bell Are Absolutely Everything
Prepare yourself, because the photos you're about to see are proof you've been living wrong all these years.
High school senior and master of priorities Brittany Nicole Creech raised the bar on the already high stakes world of senior photos when she held a photo shoot in her local Taco Bell.
She tweeted the photos, saying, "Remember when I told you guys I was gonna get my senior pictures at taco bell and you thought I was joking."
According to Creech's Twitter profile, it is her life goal to be in a Taco Bell commercial.
but seriously if you live in stl and need senior pics i 11/10 recommend @B__Batch! https://t.co/5IzV9k9B7u pic.twitter.com/usygdBcPat — @MOGirlProbs (@MOGirlProbs) August 7, 2015
When she hired Brendan Batchelor Photography to snap the pictures and uploaded them to her Twitter, @MOGirlProbs, the Missouri native was taking one step toward her glorious future advertising everyone's favorite food to eat alone in their cars in a dark parking lot at 2 am.
Taco Bell retweeted Creech's photos, and the world waits with bated breath to find out whether or not the teenager will, in fact, end up living the dream for all of us.
Senior picture goals. https://t.co/2IxlLNMr2Y — Taco Bell (@tacobell) August 7, 2015
Good luck, Brittany. May you rocket to taco fame with the power of a million Cheesy Fiesta Potatoes.
Citations: High schooler lives más by taking her senior photos at Taco Bell (Mashable)