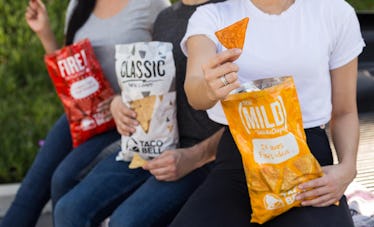 This Is When You Can Finally Get Taco Bell's Hot Sauce-Flavored Tortilla Chips
If you haven't heard the delicious news yet, Taco Bell is upping the grocery store tortilla chip game by adding their hot sauce flavors to their very own brand of tortilla chips. Since this is a dream come true for all Taco Bell fanatics, you probably want to know how soon you can get your hands the new snacks. So, when are Taco Bell's hot sauce-flavored tortilla chips available?
You can't currently buy Taco Bell tortilla chips, but the good news is that you won't have to wait too long for their arrival in a grocery store near you. According to the press release that revealed the tasty news, Taco Bell tortilla chips will roll out beginning in May 2018. I think everyone's Cinco De Mayo parties are about to get a whole lot more festive.
Taco Bell shared the good news of their hot sauce-flavored tortilla chips in a tweet on March 22, and it read, "It's out of the bag. Taco Bell Tortilla Chips are coming this summer." Don't panic, the press release did say the new snack will roll out in May — so happy early summer, I guess?
OK, now that you've marked your calendar for the May arrival of Taco Bell tortilla chips, you'll want to know what to expect when you open up your first (of many) bags. Well, you can choose from three flavors: Fire, Mild, and Classic. The Fire and Mild flavors will be similar to the taste of the Taco Bell sauces you know and love. Per the press release, the Mild chips have "hints of three chili peppers and cumin," and the Fire chips will give you the flavor of "jalapeño, chili peppers and paprika."
As someone who regularly has a stash of both Taco Bell's Mild and Fire sauces in my kitchen's junk drawer (just in case, ya know), the news of Taco Bell's hot sauce-flavored tortilla chips is spicy music to my ears. If you prefer a more neutral chip flavor, though, then you can opt for the Classic tortilla chip that is described as "salted and crispy."
The flavor alone is enough to catch my attention, but Taco Bell put just as much effort into the packaging as they put into the product. Each bag is designed to look like the Taco Bell sauce packets you're so used to squeezing on your Crunchwrap Supreme. Marisa Thalberg, Chief Brand Officer, revealed in the press release that it wasn't a tough decision to use this creative design. She said in the release, "Our sauce packets are one of the brand's most unique aspects and were the natural choice for both the flavors and packaging of our tortilla chips."
Another aspect of the OG sauce packaging that you'll find on Taco Bell's tortilla chips is the "saucy wisdoms on the chips' packaging." For example, the Mild bag shown in Taco Bell's tweet about the chips reads, "It was Fiesta's idea..." while the Fire chips have a message that reads, "I knew I was your favorite." The Classic chips, however, are sold sans message in a white bag with a tortilla chip-shaped clear window on the front of the package.
With their new flavors and unique packaging, Taco Bell tortilla chips should be easy to spot once they hit grocery store and convenience store shelves this May.
While you wait, though, Taco Bell restaurants are serving up a few new items. You can grab a Skittles Strawberry Freeze to quench your thirst, or you can quell your hunger pangs with Taco Bell's Nacho Fries. Whatever choice you make it, it should definitely hold you over as you await the arrival of Taco Bell's tortilla chips.