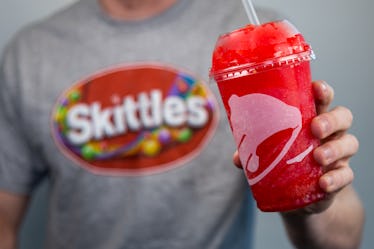 Taco Bell Released A Skittles-Flavored Frozen Drink & You're Going To Be Obsessed
I'm not too ashamed to admit that whenever Taco Bell releases a new menu item, I pay close attention. Whether it's their Nacho Fries or the Doritos Locos Taco, I (like many people) am very much here for it. So, it's no surprise that people got very excited when Taco Bell announced a new drink would join their already delicious menu. Taco Bell's Skittles Strawberry Freeze is here, and there's a good chance it will become your new favorite order once you try it.
If you're not familiar with the tasty drink selections available at Taco Bell, then you might be wondering what a Skittles Strawberry Freeze is. According to The Orange County Register, the drink is a slush-like frozen sip (of course) bursting with the flavor of strawberry and Skittles. It certainly sounds like it is a delicious way to beat the heat or to simply enjoy as a little afternoon pick-me-up. Luckily, the Skittles Strawberry Freeze is available at Taco Bell locations nationwide as of March 8, 2018.
In an email from Taco Bell to Elite Daily, a Taco Bell spokesperson relayed that this is the first time you've ever been able to sip that Skittles flavor you love so much. Not only are you (finally) getting the flavor of your favorite candy in a drink, but it's also a refreshing strawberry-flavored slush drink. It may be well before 9 a.m. as I write about this brand new sip, but I am seriously considering grabbing a mid-morning Skittles Strawberry Freeze because it sounds that good.
Even better news, treating yourself to this sip-worthy incarnation of your favorite Skittles candy is super affordable. You can grab a regular size of the Skittles Strawberry Freeze for $2.29, or you can really go for it and snag a large Skittles Strawberry Freeze for $2.59, per a Taco Bell spokesperson. Either way, you can get your Skittles-flavored drink on for less than three bucks.
While the the normal price of the Skittles Strawberry Freeze is a deal all by itself, there is actually an even better deal to be had at participating Taco Bell locations. If you find yourself at a Taco Bell store that partakes in Taco Bell's Happier Hour from 2 p.m. until 5 p.m., you can enjoy the Strawberry Skittles Freeze for only $1. Yes, you can get all of that sweet Skittles flavor in a tasty frozen sip for only a buck. Just make sure that your Taco Bell participates in the happy hour special before you grab your dollar and run out the door for an afternoon treat.
Of course, the Skittles Strawberry Freeze's arrival is enough delicious Taco Bell news for me, but the fast food chain has even more good news concerning their menu.
On March 1, 2018, Taco Bell announced in a press release that the Naked Egg Taco would make its return to the Taco Bell breakfast menu on March 8. The Naked Egg Taco was first introduced at Taco Bell in the fall of 2017, and it was served as an à la carte menu item. This time around, though, the morning meal that includes your choice of bacon or sausage, seasoned potatoes, melted cheddar cheese, and nacho cheese sauce all wrapped up in a fried-egg shell is served by the pair. For $3.49, you can grab two of Taco Bell's Naked Egg Tacos to get your day started right.
So, not only has a fan favorite returned to the breakfast menu, but now you also have the brand-new Skittles Strawberry Freeze to choose from the next time you find yourself at the Taco Bell ordering window.
I don't know about you, but I think I'm going to cancel my meal-planning efforts for the next few days and let Taco Bell do the work for me — or at the very least, I'm making my way to the restaurant for a Skittles Strawberry Freeze happy hour. Cheers!