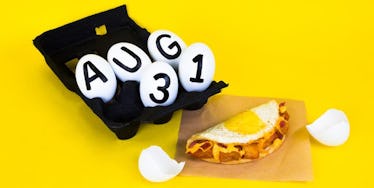 Taco Bell's New Taco Has A Fried Egg Shell And We're Totally Going For Brunch
Taco Bell
In honor of Taco Tuesday, allow me to introduce to you what will soon become your go-to order every day of the week. If you're wondering what to order for breakfast, Taco Bell's Naked Egg Taco is here to ensure you're living your mornings más. This option flips the taco concept on its head thanks to a new, out-of-the-ordinary fried egg shell. Obviously, everyone's dying to try a bite.
"The Naked Egg Taco strips down the traditional breakfast taco, allowing us to deliver a new flavor experience in every single bite," Liz Matthews, chief food innovation officer at Taco Bell Corp., said in a press release. "Shell innovation is at the core of where we experiment and whether it's crispy chicken, biscuits, or waffles that wrap up menu item classics, we bring our fans craveable and unexpected food experiences that leave them wanting more."
Though the Naked Egg Taco — complete with potatoes, bacon or sausage, cheese, and naturally, the fried egg — hits stores nationwide on Aug. 31, Taco Bell is hosting a tasting event in select locations to give customers a sneak peek at the game-changing menu item. If you're craving that one last summer brunch with friends, now is your chance to indulge, so get booking.
Funky breakfast items are definitely having a moment, so if you want to be trendy, listen up. Chick-Fil-A also added new breakfast items to its menu, including a scrambled egg burrito or bowl with — brace yourself — chicken nuggets. There is no time too early to indulge in a little poultry, especially if it's participating in the wacky, unconventional breakfast theme, so order up.
Not only are these items a bit unusual, they're super easy for those who are on the go. Grab something new with your morning coffee and you're guaranteed to be the topic of conversation at your 9 a.m. meeting. See you in line.