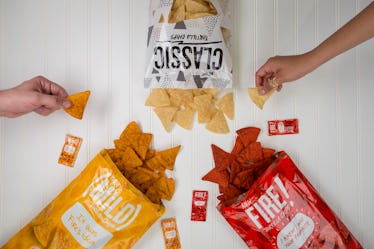 Taco Bell Is Releasing Hot-Sauce Flavored Chips In Stores, & I Am Ready To Snack
I am seriously giddy with excitement whenever Taco Bell releases a new menu item. And this latest announcement from my favorite guilty pleasure fast food chain is the best one yet, because it combines three of my favorite things on planet earth — tortilla chips, Taco Bell hot sauce, and snacking in the privacy of my own home. Yes, Taco Bell's hot sauce-flavored tortilla chips will be hitting supermarkets nationwide soon, and I am very ready to stock up and snack my little heart out.
If you're like me, whenever you pay a visit to Taco Bell you make sure to stock up on extra hot sauce packets. You know, just in case you get a midnight craving at home and create yourself a makeshift Taco Bell meal. I mean it's never the same thing, but at least you have the real authentic sauce to create the illusion.
And now Taco Bell has graciously gifted the world with what I think is one of the best fusion products to date, because the chain has packed the favor of both of their hot sauce options into tortilla chip form. According to a press release, beginning in May (and hopefully in time for all Cinco de Mayo festivities!), you'll be able to pick up a bag of Taco Bell brand Mild or Fire hot flavored chips. How has this not been a thing sooner?! And they even made a classic tortilla chip for anyone that doesn't enjoy a little extra kick in their chip, so there really isn't an excuse to not buy a bag to take home.
As mentioned earlier, there will be three flavors of Taco Bell tortilla chips available for purchase. The "Classic" chips are simply lightly salted and the perfect pairing for your dipping sauce of choice. The "Mild" flavor is the less-spicy of the two, consisting of three different chili peppers and a hint of cumin for some extra spice. And the spiciest "Fire" flavor features the bold flavor trio of jalapeño, chili peppers and paprika.
"Our sauce packets are one of the brand's most unique aspects and were the natural choice for both the flavors and packaging of our tortilla chips," Marisa Thalberg, Taco Bell's chief brand officer, says in a statement shared with Elite Daily. And you can say that again! I guess I won't need to take those extra packets as often anymore, because I'll just be able to grab a bag at my local supermarket whenever a Taco Bell craving hits.
The hot sauce-flavored chips will be sold in 1 ounce, 3.5 ounce and 11 ounce bags, and the "Classic" ones will be available in 1 ounce, 3.5 ounce and 13 ounce bags. The price of the chips will depend on where you live and your grocery store of choice, so you'll have to wait until May to find that out.
I cannot be more excited for this launch! I'll have to clear out some space on my shelf next to my Taco Bell brand queso (to pair with these Taco Bell tortilla chips for nacho making), and I've already got the Taco Bell brand taco seasoning so that I can make my own tacos at home. Maybe next up we can hope for some giant bottles of both hot sauce flavors to show up at the market.
I'm all about Taco Bell at home, and am totally open to being their official product consultant. But until that happens I'll be patiently waiting for these chips to hit the shelves at my local Gristede's. And may I just say on behalf of all Taco Bell fans everywhere — thank you, thank you, thank you.