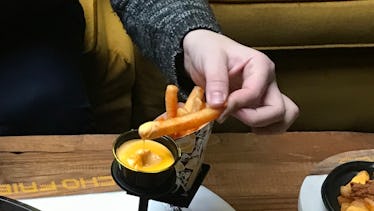 I Tried Taco Bell's $1 Nacho Fries & Here's How They Really Taste
Lizzy Rosenberg
Other than the fact that the sky is blue, I've realized over the years that there aren't too many certain facts of life. I do, however, know for a fact that anyone with taste buds (and a soul) absolutely loves a hearty helping of seasoned fries. And upon the upcoming debut of Taco Bell's latest creation, I can already predict everyone's next first choice for their 3 a.m. snack and after work vice. The bottom line is that Taco Bell's new Nacho Fries taste like pure heaven... and in the spirit of Valentine's Day, they're honestly better than any old boyfriend or girlfriend.
Set to hit Taco Bell restaurants nationwide on Jan. 25, Nacho Fries are about to take over the entire cheese fry industry. No joke. Because — let's face it — they're kind of like cheese fry's extremely hot older brother, and I'm so in love.
Unlike your run-of-the-mill soggy AF cheese fries, Nacho Fries stay crispy and fresh because they're presented by themselves in their carton, separate from the cheese. I was absolutely blown away by the bold Mexican seasoning, as well as the warm and creamy nacho cheese, which is served on the side for maximum dippability. Also, insider info: I totally recommend smothering them in some of that good diablo sauce for an extra smoky flavor. But if you're sensitive to heat, I'm not sure you can handle this sexy addition.
The best part is that a single helping of Nacho Fries is only $1. That's just 100 pennies. Four quarters. $1 Nacho Fries are what we all wanted for 2018, and we're definitely living mas RN.
In addition to the $1 plain (but also freaking amazing) Nacho Fries, you can get a larger Supreme helping for only $2.49, or even Bell Grande for $3.49. The Bell Grande is decadently topped with seasoned beef, fresh-as-heck pico de gallo, the classic nacho cheese, and even some sour cream. While it's obviously extra AF, it's seriously the only thing I've ever needed or wanted in my life. To these I added some fire sauce to bring the real heat, and it 100 percent made my day. Mucho caliente.
If you thought the meaty and fresh Bell Grande Nacho Fries were the best part of the release, you're not even close. You'll now even be able to add Taco Bell's spicy and tasty seasoned fries to absolutely anything on the menu, for only 50 cents extra. Whether you want some fries inside of your crunch wrap, or even in any burrito of your liking, Taco Bell is winning the Tex-Mex game by a mile, with its french fry takeover. And trust us, we're kinda loving it.
The Nacho Fries are debuting just after Taco Bell's introduction of its $1 Stacker, as well as a host of 20 upcoming $1 items, to be released throughout the course of 2018. So I guess we're in for a few more surprises this coming year. Bring it on, Taco Bell. We are oh, so ready for what you have in store for us.
Along with the release of these dangerously delicious Nacho Fries, I'd just like to issue a warning before trying them: They're really freaking delicious, and they're so addicting. And if they're all you want to eat in the weeks to come, it's OK! But since you totally are what you eat, you might as well get some (or literally all) of Forever 21's Taco Bell gear to show your upmost appreciation for your fave Nacho Fries pitstop. Forever 21 is currently selling a variety of festive T-shirts, sweaters, and even leotards, so making a decision extremely difficult. Getting more than one is mandatory, though, since you'll likely dribble some of that wily nacho cheese all over at least one of them.
Check out the entire Gen Why series and other videos on Facebook and the Bustle app across Apple TV, Roku, and Amazon Fire TV.