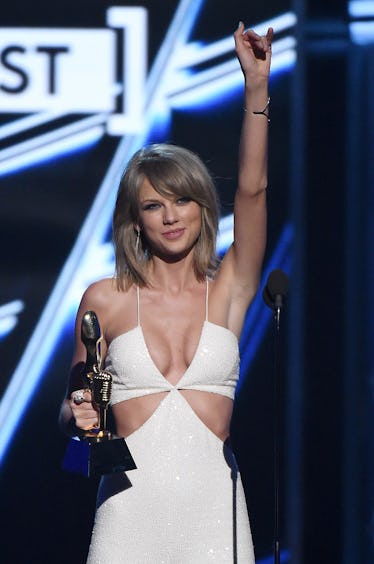 Here's When You Can Expect Taylor Swift's 'Reputation' To Hit Spotify – UPDATE
Ethan Miller/Getty Images Entertainment/Getty Images
If you woke up frantically searching Taylor Swift's name on Spotify to realize her new album, Reputation, isn't available on the streaming service yet, you're not alone. Based off the hype and catchy singles she's released so far, we're all wondering when Reputation will drop on Spotify. Sadly, we might have to wait at least a week.
UPDATE: Reputation is finally on Spotify after a whole 20 days. The news was announced on Twitter on Thursday, Nov. 30 and fans are so, so excited.
EARLIER: I know, I know... cue the tears and the nonstop page refreshing. We can get through this together, ya'll — I promise. We just have to be patient and hope Taylor adds her new music to Spotify sooner than later. According to Bloomberg, one week of waiting seems to be the verdict. Apparently, people who have chosen not to be identified stated that Taylor's new record will be kept off Spotify the first week during sales (ugh). To make matters even more nerve-wracking, Bloomberg also reports the services are still negotiating with Taylor's team about when the album will become available.
So, basically, cross your fingers Taylor doesn't change her mind about releasing the album on Spotify altogether. As an avid Spotify user and dedicated Taylor Swift fan, I'd be crushed.
In fact, I'm having minor flashbacks about when Taylor took her full catalog of music off Spotify in 2014. It was a sad day for Swifties and I'll always remember how I felt when I searched her name and her music wasn't there. Thankfully, the songwriter decided to put her music back on Spotify and other streaming services in June 2017, and I've been grateful ever since.
But for now, we'll have to nervously wait for Taylor to add Reputation — which dropped at midnight on Nov. 10 — to Spotify. To be honest, I'm probably the most impatient person you'll ever meet, and I'm really having a difficult time accepting the fact it's not available to stream there yet. Thankfully, I'm not alone. Since the sad news came out that it wouldn't be available on Spotify, Twitter has really been stressing out. Most people are under the impression that they'll have to wait a week for the big Spotify release, and they aren't exactly thrilled.
In fact, they're pretty pissed.
They're also terribly sad.
Did I mention they're super impatient, too?
Sigh.
"This is fine."
*Checking Spotify every 10 minutes.*
Well, all we can do now is wait.
See? I told you people are upset. I definitely don't blame them, though. If you're also a Spotify user who is dying to hear Reputation, you can always, um, buy it. In fact, it's readily available for you to purchase on iTunes. You can buy one track and wait for the big Spotify release to hear the others, or you can buy 'em all in one sitting.
If you're looking for some track recommendations, I'd highly suggest "Delicate." Guys, I'm obsessed with this song, and I'm probably going to listen to it at least 50 times within the next day or so. It's the fifth track on her record and fans think it's a sweet ode to Joe Alwyn. Although Reputation is full of songs inspired by boys, it's also full of Kim Kardashian and Kanye digs. If you've been keeping up, you're probably well aware of their feud — so songs inspired by both celebs makes total sense. If you don't believe me, listen for yourself.
Now that you have a teeny, tiny idea about what Taylor's album is about, you can decide if you want to buy it immediately or wait for it to be released on Spotify. Either way, stay patient — you're going to love it whether you decide to stream it next week or buy it today.