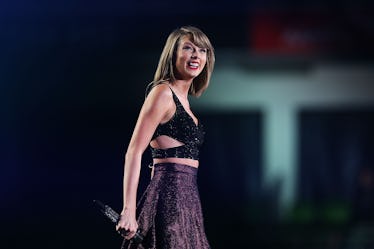 Everything To Know About Taylor Swift's 'Reputation' Album Drop, So You're Ready For It
Graham Denholm/Getty Images Entertainment/Getty Images
Is everybody hanging in there during Reputation week? If you have a computer (even though you probably don't even have to turn it on), you've heard that Taylor Swift is dropping her sixth album this week on Nov. 10. The details of how, where, and when exactly are still up in the air, leaving fans scrambling to Google to ask the question, when will Reputation be on Spotify? And should we preemptively call in sick so we can spend the day at home obsessing over it?
The answers are: we don't know yet and YES.
It's been a slow burn leading up to the big album reveal, as Swift has all but killed her fan base releasing hit after hit, behind-the-scenes details after behind-the-scenes details, and adopting a PR plan that is as meticulously detailed and effective as what I assume a NASA database looks like. It all began when Swift wiped her Instagram clean of every photo she ever posted and slowly began sharing a graphic of a slithering snake.
Oooo did I love that move.
Since The Great Instagram Overhaul of 2017, as I like to call it, Swift has given us epic music videos for two tracks: "Look What You Made Me Do" and "... Ready For It?," plus the full audio to her songs "Gorgeous" and "Call It What You Want."
This week, we have not only the full album release to look forward to, but also a special performance on ABC's TGIT lineup on Thursday, Nov. 9, in which we expect Taylor to perform a new song that will surely blow her fans' minds.
Now, the big question remains: Will Reputation will be available on streaming services like Spotify, or will Swift will make her fans work for it?
The New York Times reports that streaming contributes to nearly two thirds of the recording industry's revenue in the United States, making programs like Spotify and Apple Music heavy hitters for recording artists. Still, four anonymous executives at major streaming services said they do not expect Reputation to be available on their platforms, but this, of course, could change at any time.
Industry consultant and former digital music executive Vickie Nauman said, "Taylor Swift is one of the few artists who has the combination of star power and fan cultivation to truly drive how her music is consumed."
Stephanie Kellar, an associate professor at Berklee College of Music, thinks "she will hold it from streaming until she hits some sales mark, and then she will revisit that decision."
Still, it would be a strange move for Taylor to make some of her tracks available on Spotify and then ultimately withhold the album. So far, her pattern has been to release new music at midnight on the dates advertised (usually Thursday night). With any luck, come 12:00 a.m. Friday, the full album will be blasting through America's homes.
As part of the buildup, Swift posted footage on her Instagram account on Nov. 7 of the secret listening sessions she's been throwing at her various homes around the world. In each video, fans (understandably) are losing their minds.
As one person puts it: "It blew my expectations out of the water. Also, can not find a favorite... everyone song is a freaking masterpiece and we all were speechless."
Another says "all the new tunes are phenomenal" and Taylor is living her "best, unapologetically honest life."
I mean... looks kinda awesome, no?
Right now, our best bet is that Reputation will drop on Spotify at midnight on Nov 9, and if not, we can surely count on Taylor to direct us where to go.
Happy Reputation week, guys! Remember to hydrate, stretch, and enjoy the ride.
Check out the entire Gen Why series and other videos on Facebook and the Bustle app across Apple TV, Roku, and Amazon Fire TV.