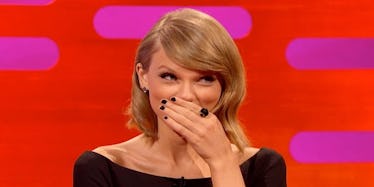 We Need To Talk About WTF Is Happening With Taylor Swift's Instagram Right Now
YouTube
Taylor Swift has deleted everything off her Instagram and unfollowed everyone she previously followed. She also seems to have deleted everything off her Twitter that came after 2015, even the likes. The only tweets on her Twitter now are just retweeted photos and videos from her 1989 tour. She also has completely blacked out her official website. The action is obviously really weird and has fans wondering: Did Taylor Swift's Instagram get hacked? Or is she up to something? What does all of this mean?
Well, there are lots of possibilities. It's totally possible Swift's social media was hacked, as hackers can do just about anything nowadays. (They hacked Game of Thrones/HBO, for god's sake. They LITERALLY can do anything.) It's also totally possible that Swift is just sick of social media and wants a fresh start. If she were actually sick of social media, though, she would pull a Solange and delete her accounts altogether, so I think this one is less likely. What's most likely, in my opinion, is Swift is about to announce her new album and she's wiping all of her social media clean so she can do a full sweep of new content completely centered around the album's theme. She'd basically be doing an entire social media takeover of her own accounts.
Ever since Beyoncé dropped her surprise album Beyoncé and her visual album Lemonade, artists have had to come up with new, surprising ways to release their music if they want it to keep up with the hype of Queen Bey's. (Well, I mean, it's admirable that they try.) So if this is Swift's early stages of doing a massive album drop announcement, she's off to a good start with this social media cleanup. It certainly has everyone talking.
Given the fact that her official website is completely blacked out, I think it's very safe to assume that Swift is about to announce a new album, and this is the beginning of her comeback. (Not that she ever really left, but fans are nevertheless calling it a comeback.)
Brace yourselves. Taylor Swift is coming.