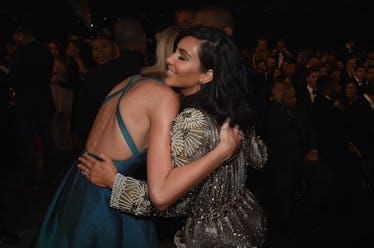 These 'Reputation' Theories About Kim Kardashian & Taylor Swift Are So, So Juicy
Larry Busacca/Getty Images Entertainment/Getty Images
It hasn't even been 12 hours since Taylor Swift's much-buzzed about album, Reputation, dropped, but already the internet (and obsessed fans) are coming in hot with their own theories and clues when it comes to who the album (and certain songs) are about. The first topic on everyone's mind? Reputation theories about Kim Kardashian West, d'oh. If you've never been on the internet before, let me catch you up: Swift and Kardashian West's feud has an incredibly long, complicated history, and if Reputation can serve as any indication of whether or not they're both ready to bury the hatchet, well, y'all should think again.
In 2016, Kanye West's "Famous" song dropped. A lyric in the song mentions Swift by name, and West made it sound like everything between the two was cool, and that Swift was fine being named in the song (alongside a reference to the two of them maybe one day having sex). But that's, apparently, not how Swift saw things. After releasing a statement condemning West for the lyric, his wife, Kardashian West, shut the internet down when she shared the receipts. Her point, obviously, was to defend her husband against the backlash — and to prove (with video evidence, no less) that two creative minds definitely had agreed that the "Famous" lyric was something Swift was cool with.
And then, Reputation came out.
The First Theory Is That Reputation Is One Big, Long, Epic Clap Back To Swift And Kardashian West's Fight.
This Twitter user isn't the first (and won't be the last) to suggest that Reputation may be just one incredibly well-executed marketing scheme. Not only does a full-length album give Swift the opportunity to have the last word in their fight; it also presents Swift the opportunity to make a ton of money while doing so.
The Next Theory Is Kind Of Like The First — Only This Time, Fans Think That Swift Didn't Just Stop At Kardashian West. She Went After Kanye, Too.
It's one thing to come for the person that you're feuding with — but tons of Taylor fans and music enthusiasts alike believe that Reputation isn't just about Kardashian West — Taylor went ahead and went in on Kanye, too. With lyrics from "This Is Why We Can't Have Nice Things" like, "There I was, giving you a second chance," and "Friends don't try to trick you, get you on the phone and mind-twist you," it's crystal clear how Swift feels about her non-existent relationship with the Wests.
Actually, Surprise! None Of The Songs On Reputation Are About Kim, Because Taylor's Way Too Busy To Even Remember That Fight.
Gonna go out on a limb here and say that I highly doubt this one is true. After everything that happened between the three of these stars and all of the drama that ensued on very public stages and platforms, I find it pretty hard to believe that Taylor wouldn't try to take back the narrative in some way, shape, or form.
If Reputation is in no way, shape, or form about Swift's decades-long feud with West and Kardashian West, I'd be pretty damn impressed. That said, I also don't fault Taylor for wanting to take a turn at defending her side of the story. Not saying she's right (or, by extension, that West or Kardashian West are, either), but maybe Reputation is all about "sex, drugs, and rock and roll."
Taylor... Went... There.
Right now, this theory is complete and total speculation, but wow, if true, it's honestly shocking. Neither Kardashian West or Swift have commented on whether any of the songs on Reputation have a straightforward illusion to Kim's horrific Paris robbery and attack, but this Twitter user isn't the first to notice that something just doesn't add up when it comes to the "Getaway Car" lyrics.
I mean. She wouldn't... right? Right?