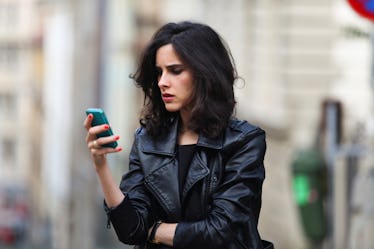 Apple Is Reportedly Trying To Fix The "i" Keyboard Bug, So Don't Get Too Upset Yet
It seems like there is some new Apple news nearly every single day. With the recent release of the iPhone X on Nov. 3, the advent of the Animoji, and the new emojis that finally made their way to your keyboards in the latest iOS 11.1 update (along with the not-so-fun "i" keyboard bug), there just always seems to be something to talk about. If you did download Apple's iOS 11.1 update, though, the only question on your mind right now is probably, "When will Apple's "i" keyboard bug be fixed?"
OK, so the good news is that Apple does know about the "i" keyboard bug, and the company has even posted a helpful workaround on its website. The bad news is that there is no specific date set as to when the bug will be permanently fixed. There are a couple of possibilities on the timeline, though. According to the Wall Street Journal, an Apple spokesperson relayed that the fix would be happening very soon. Once again, no definition of "soon" was provided, but WSJ also reported that there is reportedly a beta release of an update going out to both the public and developers.
Other reports, like 9To5Mac, indicate that Apple has said that a software update will be required to fix the "i" glitch. That will likely happen with the iOS 11.1.1 update, but again, there is no concrete release date for that update just yet.
If you're not familiar with the "i" bug in the latest update, then count yourself lucky. The bug basically makes it impossible to type the letter "i." When Apple users with the iOS 11.1 update, which was released on Nov. 1, went to post about how excited they were about the new emojis (which also came along with the update), they saw a capital letter "A" and a question mark inside of a box instead of the letter "i." Captioning your Instagram post of the new bearded man emoji with a simple, "I'm so excited," was nearly impossible.
Seriously, people were annoyed and could not figure out why their keyboard would to do them dirty like that.
To clarify that for you, in case you're still on the verge of throwing your phone every time you try to type "I," you just have to follow a few simple steps in order to over come the "i" keyboard bug: Go to Settings > General > Keyboard > Text Replacement. In Text Replacement, hit the "+" in the upper right-hand corner to add a shortcut. Finally, type the lowercase "i" in the phrase section and an uppercase "I" in the shortcut box. Hit "save," and then you're all set.
Of course, it hasn't been all doom and gloom on the Apple front lately. Last Friday, Nov. 3, people stood in long lines and anxiously waited for their UPS driver so they could get their hands on the brand-new iPhone X. Not only did the lucky new iPhone X owners get their hands on the sleek, all-glass designed smartphone, but they also got to experience the new Animojis.
Playing with Animojis, which are animated emojis whose movement mimics your own, likely lessened the pain felt with the "i" bug for iPhone X users, but for those of us who only experienced Animojis by watching (way too many) hours of #AnimojiKaraoke (because I'm kicking it old school with the iPhone 6S), the "i" keyboard bug stings pretty bad.
OK, I guess I can't complain too much because I did get all of the new emojis with the iOS 11.1 update as well, but that doesn't mean I'm not eagerly awaiting the next update.
Check out the entire Gen Why series and other videos on Facebook and the Bustle app across Apple TV, Roku, and Amazon Fire TV.