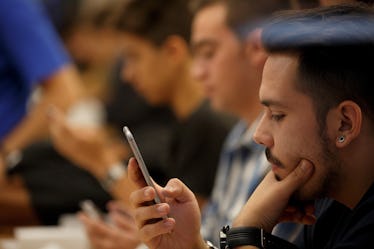 You Can Fix Apple's "i" Keyboard Bug By Doing This One Thing
Pablo Blazquez Dominguez/Getty Images News/Getty Images
Now that everyone has somewhat come down from all the excitement of the iPhone X release on Friday, Nov. 3, there are some other Apple items to discuss. For those who didn't get their hands on the latest iPhone, Apple also released the iOS 11.1 update last week on Nov. 1. With this new update, iMessage users everywhere got some cool, new emojis added to their keyboards. Unfortunately, the iOS 11.1 update also brought with it a not-so-fun keyboard bug. There is a way to fix it, though. Read on to find out how to fix Apple's "i" keyboard bug, so you can text in harmony again.
Once the excitement of using new emojis (like the brain and the zombie) wore off, you probably noticed that there's a keyboard bug that turns your "i" into an "A" with a box containing a question mark next to it, according to Lifehacker. You Instagram posts likely made less than any sense for a while. Instead of forgoing the use of the letter "i" until the bug is fixed, there are actually a couple of simple solutions to get your keyboard back in order.
Here is what you might have seen when you typed the letter "i."
Your frustration while trying to type out a simple message as you dealt with the keyboard bug was likely at an all-time high.
I feel ya, but you won't have to live this way forever.
OK, now on to the solutions.
The first way to fix this issue is to create a keyboard shortcut. According to Lifehacker, you need to go to Settings > General > Keyboard > Text Replacement. Once you're on the Text Replacement screen, hit the "+" in the upper right-hand corner to add a shortcut. The last step is to type the lowercase "i" in the phrase section and an uppercase "I" in the shortcut box. Hit "save," and then you're all set.
Get ready to say "goodbye" to weird symbols.
Go ahead and get your happy dance on.
Here is the Text Replacement screen that you'll see.
For visual learners, this video is very helpful.
Now, the keyboard shortcut solution should work, but if it doesn't, there is another way to fix the bug. According to iMore, you can also use a third-party keyboard to fix the issue. Why would that work? According to iMore, third-party keyboards are unable to access the iOS autocorrect system, and in turn, that makes them unsusceptible to the bug.
To use the third-party keyboard hack, you'll need to first download a third-party keyboard. iMore suggests a few: GBoard, SwiftKey, and Swype. Once you've downloaded your preferred keyboard, you'll need to add it to your keyboards.
The Apple website provides some easy directions to get this done. To add the new third-party keyboard, you go to Settings > General > Keyboard > Keyboards > Add a New Keyboard, and then all you need to do is select the app that you downloaded.
I know, I know, this sounds like it could be a lot of work, but it really shouldn't take you too long. And just think about how much simpler your life will be when your messages aren't begin garbled up by weird symbols and question marks. It's not all bad, though. Even though the iOS 11.1 update may have brought along this annoying little keyboard bug with it, don't forget that you still have all the new emojis that came with it as well. Creating a keyboard shortcut is a small price to pay in order to finally have the sled emoji that will make all of your iMessages festive AF this holiday season, right?
Check out the entire Gen Why series and other videos on Facebook and the Bustle app across Apple TV, Roku, and Amazon Fire TV.