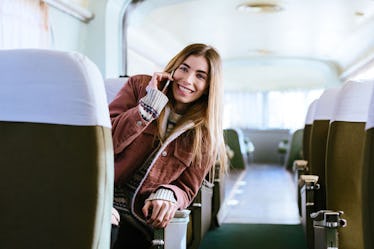 This Is The Best Time To Fly During The Holidays, So You Don't Miss The Turkey Dinner
It's almost that time of the year. Yes, the few months when shopping malls and airports are packed to the brim are right around the corner. Lines are out the door, and you put some snacks in your bag knowing that waiting is inevitable. (Especially when you're hanging at your gate, it's essential to have some chips in hand!) But, it doesn't necessarily have to be this way. Thanks to flight data released by AirHelp, you can have one important question answered: When is the best time to fly for Thanksgiving 2018? Girl, let me give you the scoop so that you're not late to dinner.
Around the holidays, you always take on the title of "traveler." You pack up your bags with a bunch of oversized sweaters, a new dress and some tights, and a pair of booties you want to wear to dinner. You upload your boarding pass to your phone, and double-check the weather. You would love it if teleportation was real, because then you wouldn't have to deal with the hassle of airports or long security lines.
A scenario like this is what keeps you from catching flights throughout the rest of the year. Unlike those #wanderlusters out there, your passport might chill in a drawer until it's time to go see your parents and that giant bowl of mashed potatoes for Thanksgiving. At the moment, you live across the country from your family or friends, because you're going to school or decided to change locations.
The holidays are a perfect reason to travel back to your hometown, but you're in serious need of some tips and tricks to make this journey as easy as possible. Don't worry: All of your questions are about to be answered. The only thing you need to worry about is curating a playlists for the clouds. *Cue the sighs of relief.*
When is the best time to fly for Thanksgiving 2018?
Drumroll, please! According to AirHelp, the world's top air passenger rights company, the best time to fly over the holidays (November and December) is between 6 a.m. and 11:59 a.m. At these hours, flights are typically less disrupted. So, you are much more likely to make it to that delicious dinner on time. (Maybe even before your mom puts out the cheese and cracker appetizer.)
Although it may be an early morning, it's so worth getting to the airport before the rush and avoiding those red eyes. Think of it this way: Most people don't want to roll out of bed to catch a flight at the break of dawn, just like you. Being different will score you a lot of extra brownie points in the sky. Simply grab an extra cup of coffee on your way to the gate, and plan on taking a nap on the plane.
What are the most popular days and places to fly on Thanksgiving?
AirHelp's data also revealed the most popular days and places to fly on Thanksgiving. This way, travelers can try and avoid the crowds and scope out different airport locations.
When it comes to Thanksgiving, the Sunday after the holiday was recorded as the most crowded in 2017. People probably wanted to soak up every bit of the weekend with their families. It makes sense — an extra day of sweet potato casserole, rewatching classic television shows, and hanging with your siblings in pajamas? Yes, please!
According to AirHelp, the most popular routes from Thanksgiving 2017 included flights leaving from Los Angeles International Airport (LAX), San Francisco International Airport (SFO), New York LaGuardia Airport (LGA), Las Vegas McCarran International Airport (LAS), and a few more.
When should you start booking your flights for the holiday season?
When you're booking flights for the holiday season, it's always a good idea to plan in advance. Don't wait until the very last second, especially if you know when you want to fly out. Waiting only makes the cost of a ticket go up, and the availability go down. (Take it from a true traveler on this one, OK?)
AirHelp suggested that you hit that purchase button about nine weeks ahead of time. That's a little over two months before your anticipated trip. Waiting until the last possible second to book a flight could increase your total to up to around $260. So, if you're looking to catch a flight for the holidays in December, you should be finalizing your travel plans around Halloween time.
For Thanksgiving, you should start considering your plans toward the end of summer and into Labor Day weekend. Unfortunately, that prime window has already passed for this year. But, you can still book around the crowds.
How can you make your flying experience better?
I've already told you so many secrets, so let me share just a few more. Traveling is truly one of my favorite things. But, that's not the case for everyone. Some people despise flying and are always in search of ways to make those long flights better. Lucky for you and them, I've some tried and true things that I do that make every experience one for the books.
First thing's first: Wear something comfortable. I'm talking sweatpants, a cozy crewneck, and sneakers for your flight. Join the athleisure party! Next, upload your boarding pass to your phone before you get to the airport. This lets you skip a couple of steps and lines.
Last but not least, order water or ginger ale on the plane, gaze out the window for a few minutes, and then get excited about your destination. Remembering that you are going somewhere sweet always makes the flight much more manageable. Your family and homemade pumpkin pie are waiting on the other side, and it doesn't get much better than that.