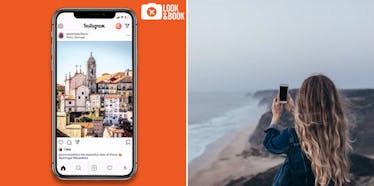 This App Helps You Book Flights From Your Favorite Instagram Pics & It's A Game-Changer
Chasing your wanderlust can be easier said than done. There's a lot to take into consideration between flights, accommodations, excursions, and how you're going to fit a week's worth of clothes into a carry-on suitcase. But, all of that planning doesn't stop you from wanting to hop on a plane as soon as possible. You scroll through your social media feeds, see bloggers traveling to dreamy locations, and wonder if you'll ever make it there, too. Well, what if someone told you that there's a way to find and travel to all of those Insta-worthy spots around the world? With easyJet's new travel app feature, you can book a flight using your favorite photos from your feed. (Yes, you heard that right.)
Let's be honest: As you're reading this article right now, you're double-tapping on your phone. You're checking in with those YouTubers you've been following since their very first vlog, and re-watching the videos titled something like, "How I Travel For A Living." Like a lot of millennials, you want to see the world and turn your passion for passports into a paycheck. But for now, you're just trying to take trips, gain experience, and create content for your feed on the reg. Soon enough, that "true traveler" label will come around, right?
You're not wrong, and the latest travel feature in the app store will help you turn those dreams into a reality. Suddenly, that waterfall you saw on Instagram isn't so far-fetched, and you have a flight booked to that quaint town in the European countryside for later this year. With easyJet's new travel app feature, Look&Book, that's essentially how easy it can be to get out into the world. The only thing you need to do is screenshot your next destination. Ready, set, go!
What's the scoop on easyJet's new travel app feature?
Arguably the most difficult part of traveling isn't picking out the destination, but finding it. You see a single photo on an Instagram story, or a small clip in a video and instantly start doing some research. You think to yourself, "Well, that castle looks the same. I think," before getting a little frustrated and calling it quits. Take a deep breath, and know that the impossible just became possible.
EasyJet created a feature that puts your wanderlust first. Essentially, the airline recognized that true travelers, and even first-timers who are looking to get that first passport stamp, are finding travel inspiration on social media. But then, it stops there — because nobody can track down the location and jump the hurdles to get there themselves. The Look&Book feature eliminates all of that confusion and worry, and lets you start planning a trip from the second you see a photo on Instagram. Easy peasy, am I right?
How does the feature work?
Here's how the new travel app feature works: It all starts with a screenshot. Think about when Instagram rolled out the "swipe up" feature, or the apps that allow you to screenshot a photo with a cute outfit, and then shop the look right away. Look&Book works basically the same way, just with an audience of travelers.
First, scroll through your social media and find a dreamy photo. Maybe it's a picture your favorite blogger posted from Bali, or that somebody you knew from high school posted on the 'Gram from her semester abroad. There's bright blue water, some mountains in the distance, or a skyline that takes your breath away. Yup, you have to go there, like now.
So, you take a screenshot and save it to your photos. Then, open your camera roll and open the photo with Look&Book. From there, the app does its thing — it uploads the image and uses technology to figure out the exact location of those cute picturesque white houses that are built into the landscape of an underrated Greek island. Then, it gives you the best flight options, so that you can see that sight with your own two eyes.
At this point in the process, it's very similar to any other flight you may have booked in the past. You put in the dates you want to travel, and the number of passengers, and scroll through the results to find something that fits for you. Just like that, you're taking off to a destination you thought was only meant for your dreams. (Well, you have to pack first — but you get the idea.)
Where is the feature currently available?
Unfortunately, the new travel app feature from easyJet isn't available everywhere yet. According to TheTravel.com, it can only be used for destinations within European, Icelandic, or Northern African areas. But, you can still put the feature to the test by downloading the easyJet travel app, and testing a screenshot or photo of your own.
Simply upload a photo, and learn all the ins and outs of Look&Book. Start locating destinations that interest you, and scoping out excursions you want to go on once you get there. That way, when the feature becomes available for an airport or location near you, you're already a pro and just need to hit "purchase" on that plane ticket. (Dear bank account, I'm truly sorry for this one.)
How does the feature change the game for true travelers?
This feature is a huge game-changer for true travelers, because it gives all the answers to the infamous question: "Where to next?" No destination is impossible to find or get to anymore. It's like the world just opened up to thousands of people who are seeing photos on social media, and wanting to be a part of that experience themselves.
Whether you're looking to take a solo trip this fall, or gathering up your girls for the adventure of a lifetime, this app is exactly what you need. You can travel like a blogger by going to the same destinations and sharing with the world how you coped with that super long flight, too.
You can even post a picture on social media that, maybe one day, an acquaintance from college will screenshot and throw into the app. She'll plan her own adventure, and the domino effect goes on and on. Just like that, more and more people are inspired to travel. See how that works? Perfect, then let's go.