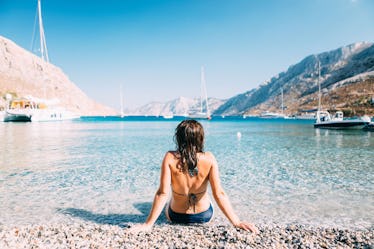 7 Underrated Greek Islands That Aren't On Your Bucket List, But Really Should Be
At least once in your lifetime, you need to get yourself to the Greek. You've likely seen pictures of the pristine beaches with teal water that stretches to the horizon line. You've imagined yourself lounging in the sun and eating fresh fruit on a boat. But, pinky promise me that you won't leave that image in your daydreams. *Extends pinky finger through the screen.* You need to step into the fine sand and see those beautiful white houses amongst the cliff sides for yourself. Do yourself a favor, though, and scope out some of the underrated Greek islands. You know: The specks on the map that aren't on your bucket list, but really should be.
Up until now, you assumed that Santorini or Mykonos would be everything you're looking for. Don't get me wrong: Those islands are like another planet, with sunsets and cobblestone streets that feel otherworldly. It's just that there are so many other places to explore as well, beyond the beaten path. So, why not make your destination somewhere that's meant for only true travelers?
It won't be easy to get to such untouched shores and serenity. You'll likely have to take a ride on a small boat or plane. But, the journey will be well worth the journey. Make one of these seven spots your next destination, and thank me later for such a sweet addition to your bucket list.