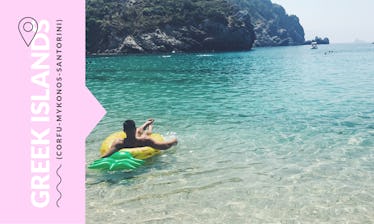 Wander Or Bust: The Greek Islands Are So Stunning, You'll Want To Hop On A Plane RN
Wander or Bust is an Elite Daily travel series that follows young women all over the globe to record their journeys as they experience the thrill of the far-flung and unknown.
They'll track their budgets, where they stay, where they eat and drink, and where they took that amazing Instagram that got them ~maximum exposure.~ The internet is full of travel advice, but none from women just like you. Read on for the tips no one else gives you, and when in doubt, get on the plane.
Here's Tina Kolokathis' Wander Or Bust guide to the Greek islands.
My Name: Tina Kolokathis
What I Do: Senior Entertainment Editor, Elite Daily
Where I Live: Long Island, New York
Where I Went: I went on a cruise to the Greek islands of Corfu, Mykonos, and Santorini.
How Long I Stayed: 7 days, 6 nights
My Spending Style: Occasionally indulgent. I don't throw money around, but I will definitely splurge on more than a few expensive things on a vacation.
Where I Got My Recommendations:
In Mykonos, I got recommendations from some of my Greek friends who have visited before. We took a shuttle to Tropicana Beach and it was a blast! In Santorini, we took a day-long tour to a bunch of fun spots. We checked out the beautiful scenery in Oia, a winery in Fira, and the Red Beach. Our tour guide gave us recommendations while we were there!
Exchange Rate At Time Of Travel: $1 USD = €0.84 euro
What That Looks Like IRL: $50 USD = €42.08 euro
Preferred Payment Method: We primarily used cash, except for when we were on the cruise ship, where I had my credit card linked to my room.
Phone Bill: I didn't use my phone at all during my trip unless I was in an area with free WiFi. So it cost the same as what it would normally, which was around $98. I was traveling with my fiancé, my entire family, and my close family friends, so there was really no need for me to get in touch with anyone else!
Mode of Transport: I have a credit card where I racked up a ton of miles and I used those miles to fly to London. From London, I took a smaller flight to Venice, where my cruise departed from.
Price: $500
Extra Costs: My suitcase and my carry-on were free as part of the perks from my credit card. My family and I took a shuttle van to and from the airport, but my parents took care of those costs.
Transport Total: $500
Accommodation: I stayed on a cruise ship! I got a room with my fiancé, and my parents and brothers were right down the hall.
Location: In the middle of the ~Mediterranean~ ;)
Price: The cruise itself cost me $1,195. This included all food, alcohol, and tips for a full week.
Extra Costs: Honestly, being on the cruise ship was great because there were no real extra costs. We dined in their restaurants and the tips for servers were included. We did decide to upgrade our dining package so we could try the higher-class restaurants, like the steakhouse, which was $82 to do, but that was all on our own (and well worth it, I might add).
Would I Recommend It To Someone Else:
Absolutely! I was able to see three Greek islands in just a few days. However, if someone is looking to get fully immersed in the Greek culture and spend more time on the islands, I would recommend visiting them each on their own. That way, you're not restricted and don't have to be back on a ship at any specific time. Because I spent another week of this trip in my family's town in Greece, I was fine just visiting the islands for the day.
Accommodation Total: $1,277
Breakfast-Lunch Cost: $0/day
Because the cruise was all-inclusive, we had already paid for food. However, if you were to buy breakfast as well as lunch on any of the islands, it would probably run you between $15-$20 a day.
Dinner Cost: $0/day
A typical dinner in Greece, at a well-priced place with good food, will probably cost you around $15 and obviously increase with how high-end you're looking.
Average Total Cost:
Food was free unless we were off the boat and visiting an island. When we were in Corfu, we got souvlaki at a small restaurant in town. In Mykonos, I had a club sandwich at the beach. In Santorini, we were doing so much sightseeing that we didn't even really eat! I grabbed a spanakopita (spinach pie) from a small shop in town and kept walking. However, it was hot. I tried to grab water wherever I could to stay hydrated. So, I would say I probably spent about 25 Euro per day on food and drinks.
Tip Situation:
When we were in the Greek towns, we did tip for good service. It definitely wasn't 20 percent though, as is customary in the states. A few euro was fine.
Food Situation:
On the cruise, you have food available to you literally 24/7. In the mornings, we'd usually hit the buffet while waiting for our names to be called to leave the boat. You could find anything there — pancakes, waffles, cereal, eggs… you name it. For dinner, we made reservations at each of the cruise's restaurants. They were super tasty and included an appetizer, entree, and dessert at each meal.
Favorite Restaurant: Pane e Souvlaki
My favorite restaurant was in Corfu. We all got horiatiki to share (Greek salad of tomato, cucumber, olives, and feta) and I got chicken souvlaki that came with pita, french fries, and tzatziki.
Location: Corfu
Price: It was about 10 Euro for the souvlaki and a Mythos (one of the best Greek beers, don't @ me).
There's nothing like fresh souvlaki right off the grill. The pita was still hot when it came out, and so were the french fries. And the tzatziki was amazing! The restaurant is also in the main town area and is super cute, with fresh flowers and light colors inside.
Food Total: $96
Nightlife Situation:
Nightlife on a cruise ship is definitely different than it is for people who are on the Greek islands overnight. On the cruise ship, there were always activities at night, plus a bunch of bars you could hang at, and a club. But in Greece, it's a whole different ball game. Especially in Mykonos, which is known as the party island of Greece. There are clubs in the main towns, on the beaches… literally everywhere you look. They're open mid-day on the weekends for day parties and they're open literally overnight until the wee hours of the morning. There is no shortage of partying. The Greeks like to wake up late, eat, hit the beach, take a nap, eat dinner super late at night (9 or 10 p.m.) and then hit the clubs again. It's a way of life!
What People Wear Out: It's a mix of both casual and dressy in Greece. You'll see rompers and dresses and heels, but you'll also see jeans and a cute top. For guys, it's normally jeans and a T-shirt or polo.
Average Cost Of A Pint: Beer is normally $3 to $3.50. Some of the popular ones are Mythos, Fix, and Amstel.
Extra Cost To Know About: There normally aren't covers at bars and clubs in Greece (or, at least the ones that I've been to. Some super popular ones may be a different story). Be prepared to want to eat gyros or crepes after, so save a few bucks for that.
Last Call: Honestly, you can go to Greece and party until 6 or 7 a.m. if you want. They make us Americans look bad for closing at 2 or 3 a.m.!
Average Total Cost Of A Night Out: In Greece, I would probably spend about $25-$35 on a night out. But I don't drink that much, so you may be different!
Cheapest Bar I'd Actually Go Back To: The Tropicana
This beautiful beachside bar is in Mykonos.
Going Out Total: Around $60
What I Spent A Lot On That Was Totally Worth It:
We spent a lot on a full-day tour in Santorini. It was so worth it because our tour guide brought us to only the best stops. We also had a wine tasting included at Venetsanos Winery, and the views from the wine tasting were absolutely stunning. I would pay for it again three times over.
What I Spent A Lot On That Was Totally Not Worth It:
A pineapple float that I used for one day while on the beach in Mykonos. Had to deflate it to fit in my suitcase on the way home and literally have not touched it since.
What I Spent Little Or No Money On That Was Awesome:
Pastries in Mykonos! They were almost too delicious.
Favorite Thing I Did, Regardless Of Cost:
Took a shot of ouzo with my family during a sunset dinner in Santorini. Ouzo is is definitely a cultural experience when you're in Greece.
Hidden Gem I Found:
The Venetsanos Winery in Santorini is literally something out of a picture book. There was a wedding happening while we were there, and I don't think I've ever been more jealous of anyone in my life as I was of that couple! The views were amazing! It's the same view you can see in the photo below.
The Photo I Took That Got The Most Attention:
Excursions/Extras Total: $240
General Shopping: $40
Souvenirs: $80
I brought back a bottle of wine from the Santorini winery we visited! Still have it at home. It was amazing!
Souvenirs/Shopping Total: I spent about $120 on shopping, since I bought things for some friends as well as my fiancé's family. Oh yeah, and myself.
Best Greek Islands Hack:
Don't try to do too much, just enjoy it! I really just explored the cities, aside from the one tour I did in Santorini. It was perfect. Time spent relaxing on the beach, trying local food and drinks, and taking in the amazing scenery is all you need to do in Greece.
Some of my favorite memories include: Riding the cable car in Santorini to the top of the mountain (that the town sits on top of) — it was such a crazy ride and I'll always laugh thinking of my family riding in that thing! We also had a few too many drinks at Tropicana Mykonos. My brother also accidentally floated too far out on our inflatable pineapple in Corfu. The list goes on! Greece is amazing, and the people you spend time with there make it even more amazing.
Advice For Anyone Traveling Alone:
Make friends! Everyone is so friendly, and a lot of Greeks speak English, as it's taught in a lot of the schools there. Also, don't think that just because a restaurant is cheap, it's not delicious. I haven't had a bad meal in Greece (but maybe I'm biased because of my heritage).
Total Trip Cost: $2,293
Worth It? MORE than worth it. I would do it all over again in a heartbeat!