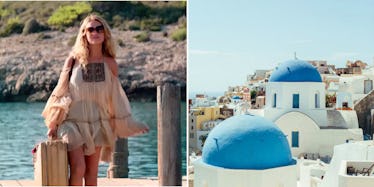 7 Places In Greece 'Mamma Mia!' Fans Need To Visit Right Now, Because Here We Go Again
Mamma Mia! Here We Go Again officially comes out on July 20, and I'm already so excited. Like most of my favorite romantic comedies, I've watched the first film over and over. I know every single lyric to "Dancing Queen," and am expecting the sequel will have another soundtrack full of ABBA jams, too. Let's be honest: You wish you could've been there when they filmed that iconic scene with Meryl Streep skipping by the beach. The places in Greece every Mamma Mia! fan should visit will be a complete daydream. They are well-worth taking a trip to those beautiful islands in the Mediterranean.
Personally, I just want to know: What in the world happened to Donna?! The trailers show that this second movie will go back in time to that summer when her free-spirited character constantly fell in love and tried to figure out life. But, up until this point, they've been unclear about her current whereabouts. They show Sophie roaming around the cobblestone streets with her family and friends, announce that she's pregnant, and even Cher makes an appearance. We need answers, people!
For now, though, you may just want to scope out some new destinations for your bucket list, that are completely inspired by the movie. There's nothing quite as sweet as stamping your passport, except for maybe watching your favorite romantic comedies. These seven locations in Greece will be a must for every Mamma Mia! fan.