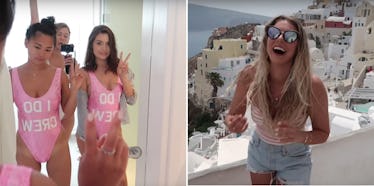 This Vlogger's Bachelorette Scavenger Hunt In Greece With Her Girl Crew Is #Goals
Summer means pulling out our passports and traveling any chance we can get. Some of us have spent the past few months booking getaways, or at least stocking up on some cute bathing suits for those weekend beach days. Even buying a couple of floral dresses was necessary, especially since it's wedding season. Maybe your bestie is about to get married, or you've just already started wondering what you're big day will be like. Fashion, lifestyle, and beauty vlogger Alex Centomo's bachelorette party in Greece with her girl crew is major #goals — and you're probably hoping your besties are getting some ideas for when it's your turn.
If you could go anywhere in the world for your bachelorette party, where would you go? Would you jet-set to somewhere exotic and tropical, or stay up all night in New York City? Personally, I'd probably want to head to an island, or spend a week wandering around the beauty of Europe. It just all sounds like such a day dream, and I could imagine eating endless gelato with my girls before saying, "I do."
Finding your soulmate is quite the adventure in itself, and your day ones have likely been there through every step of the way. They remember when you two first started dating, and all the cute vacation photos you've taken in between now and then. *Cue all the happy tears.* Let's be honest, they're basically just as excited as you are for everything that's about to happen. That's likely why Alex Centomo's girls went all out for a bachelorette party that is pretty perfect — if I do say so myself.
So, what went down during this beautiful bachelorette party?
This vlogger's friends seriously pulled through, planning a cute little scavenger hunt around Mykonos, and posing for endless pictures and shots in front of the camera in between. They stayed in the most aesthetically-pleasing spot, full of flowers and white houses built into the hills. Later on in the week, they hopped over to Santorini to meet up with the blogger's husband-to-be and his friends, too.
The scavenger hunt started with the crew going into town. The girls gave the bride-to-be fun things to do, and they caught it all on film. Most of the people they recruited during the hunt seemed to be pretty good sports, and her friends joined in on the fun when it came to piggybacks and finding guys to play along.
On the other days, the crew wore matching one-pieces to breakfast that said "I do crew," and likely did lots of lounging. After all, there are sights to see, but also some beautiful beaches in Europe that you can't pass up while you're there. Take a glance at it for yourself and let's go to Greece as soon as possible, OK?
What kind of things were on the scavenger hunt?
The scavenger hunt made for a day well-spent for the group of girls and their bridal bestie. The first thing on the list was to find a guy with big muscles and ask if you could get a ticket to the gun show — extra points for a picture where you're grabbing his biceps. The blogger found someone and snagged the picture, in a truly cringe-worthy (and hilarious) moment.
The second thing on the list was to go up to a guy and say, "I've been looking all over for you, Chad!" Once again, the bride-to-be found someone to play along, and scored a couple of laughs, too. The hunt continued with asking people on the street to give piggyback rides, and sing six seconds of a Britney Spears song. The camera died, but I'd say the game went over so well. So, can we play next round?
How can you and your girls recreate this trip?
First things first: You and your girls have to get to the Greek islands if you're looking to recreate this trip. Believe it or not, traveling like a blogger is in the cards for you this summer, and it starts with finding tropical spots and bringing along a camera to capture it all.
You don't necessarily need to be celebrating a bachelorette or birthday — you just need to find some friends who make the best travel buddies and convince them to follow their wanderlust. You'll want to make stops at Santorini and Mykonos, too, and maybe make your own scavenger hunt during breakfast on that first morning. Of course, matching bathing suits for photo shoots will be a must, as well. Now, has anyone seen my passport?