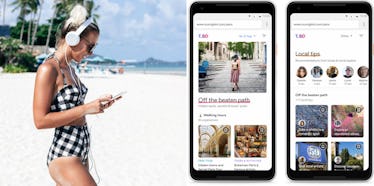 Google's New Travel Tool Is The Next Best Thing For Trip Planning, Without The Stress
Traveling has its ups and downs. On the one hand, you're diving head-first into an incredible new culture, and tasting the most delicious, authentic food the area has to offer. On the other, you're navigating airports, finding accommodations, and trying to make the most of each moment while you're there. You don't want to miss out on the top sightseeing attractions, in addition to those restaurants that are off-the-beaten path. Lucky for you, the next best thing for every true traveler is here. Google's Touring Bird feature will help you plan your experiences and explore a place before you even touch the ground. Just like that, every trip turns into the adventure of a lifetime.
Right now, you're spending hours with your laptop and a notebook prior to getting on the plane. You're jotting down different prices, and scanning the screen for deals. After you go through all of your favorite travel sites, you start working through social media. Bloggers and influencers are always posting about their latest trips, and you want to recreate their itinerary. You watch their vlogs and videos, hitting the pause button every time they mention a sweet spot in the city for gelato or bike riding. Soon enough, midnight rolls around and the exhaustion is real.
So, why not just skip over all the stress of the planning process? You could book tours, compare prices, and discover activities that are fitting for you without all the hassle. Touring Bird is essentially a one-stop shop for every true traveler, or even the first-timers, who are packing their suitcases and scoring that passport stamp.
What can you do with Touring Bird?
When it comes to traveling, the first things you probably consider are flights and accommodations. You grab your tickets and reserve the cutest millennial pink place to stay. Then, you start looking into excursions, where to eat, and the details that make this trip a true experience. That's where things start to get a bit messy.
A small team with Google that's passionate about traveling realized that making plans can be too complicated. So they built Touring Bird, and put all that trip research into one place. With this new feature, you can book tours and activities for destinations around the world. According to the site's FAQ page, you can "build-your-own-package" by selecting skip-the-line tickets, or boat cruises that are sourced from the larger providers like Expedia or Viator. All in all, it saves you a lot of time and energy, because you don't need to make a bunch of different purchases or accounts.
When you want an expert or local opinion on what to do, you can scroll through recommendations from travel bloggers or people who live in the area. Filter your results to your interests, for an experience that's truly your own. Can somebody pinch me? This must be a dream.
How can you plan a trip using Touring Bird?
Aside from recommendations and purchasing the best deals, Touring Bird allows you to save and share your favorite activities. You may see something that sounds interesting, like a secret food tour in Chicago or the hidden gems of Prague. But, you're not traveling alone and want to run it by your bestie before booking anything. Simply tap the bookmark button, or grab the link and put it in your group chat. Then, you can go back to it later when you've gotten the thumbs up and signature, "Looks good to me!"
When you're snagging those tickets and experiences, you can also clearly see the cancellation policy and any other tips. For example, some of those major attractions might have long lines at certain times of the day. Touring Bird will gives you a heads up, that way you know exactly when to check into the Colosseum, or that taking the stairs is better than the elevator to get to the second floor of the Eiffel Tower (It's true.)
These little details make you feel like you're an insider to an exclusive club of travelers, and help you make the most of your 10-day trip. You wish it were longer, but reality called, so now you have to squeeze in as much fun as possible.
What locations are currently using Touring Bird?
Touring Bird launched on Sept. 6, releasing guides and features for 20 different locations across the globe. These places are hotspots for first-time travelers and the people who have some experience under their belt. The cities are full of Instagram-worthy waterfalls and cafes, and museums of Renaissance art — all of which you can track down with this application.
So far, some of these destinations include: Paris, Amsterdam, Barcelona, Lost Angeles, Rome, San Francisco, and Toronto. According to the site, they plan on expanding to other cities in the months ahead, and continuing to curate experiences for travelers in every place. No matter where you go, it'll be like having your very own travel agent — right in your pocket and with only your best interests in mind. There's only one question you have to answer: Where to?
Where can you access Touring Bird?
All of those local tips and free walking tours can be accessed worldwide, on either your mobile device or a desktop. Just head to the website, and let the exploring begin. First, select your destination, and then enter in your travel dates. This will make sure you're only seeing excursions and experiences that are available during your time of stay.
You may discover the beauty of Park Güell in Barcelona, and book your ticket into the park. The sidebar will show you some interesting facts, just in case your favorite travel bloggers didn't already convince you that this is a must-see. With a few clicks, you're good to go. See how simple travel can be? Who knew.