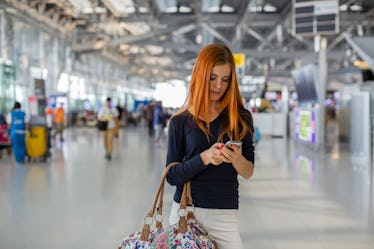 Make Your Next Airport Experience Way Less Stressful With These 7 Quick Tips
There's nothing more exciting than flying to a destination you've always dreamed of visiting. You've been saving up for this big trip and planned out every little detail, from your favorite outfits to the most unique (and Insta-worthy) activities. The entire process can be exhilarating, but it can also be a bit overwhelming. Flying and airports in general can bring out a lot of unnecessary stress. The long lines, security process, check-in counters, and time constraints can make even the most experienced travelers nervous. There are some tips to get you through the airport faster, so that you can make it to your destination in no time (without any extra baggage).
As a full-time traveler, I've had plenty of good and bad airport experiences. I've missed flights, experienced delays, slept in airports, and so much more. Over the years, I've learned some tricks to help make my airport experience go a lot smoother. I no longer dread showing up to the airport. Instead, I look forward to arriving ahead of time, breezing through the process, and even grabbing a snack before I board the plane. If you're worried about missing your flight or navigating your way through busy airports, then use any of these tips to ensure you crush your next airport experience.