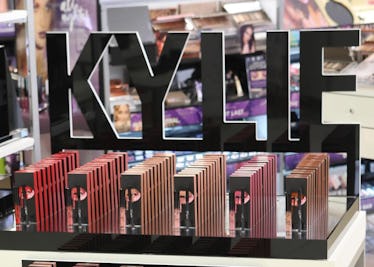 We Finally Know When Kylie Cosmetics Is Hitting Ulta Shelves & It's So, So Soon
It's the moment Kylie Jenner fans have all been waiting for: The almost-billionaire took to her Instagram and Snapchat stories on earlier this week to reveal when Kylie Cosmetics will arrive at Ulta Beauty stores. Back in early September the youngest Jenner sister took to Twitter to announce that fans of the brand would be able to purchase her products at their local Ulta just in time for the holiday season, though she did not specify when exactly they'd be arriving. To all of her fans' relief, the date has finally been announced, and just like Jenner mentioned, it is just in time for the holidays — and even Black Friday.
Saturday, Nov. 17, marks the first time that the Kylie Cosmetics brand will be available in a brick and mortar store (save for those few temporary pop-up shops that she's held in the past). And as exciting as it is that you'll soon be able to shop Jenner's makeup line at your local Ulta, no matter where you live, there is a little bit of a catch.
According to Jenner, at first, you will only be able to purchase her best-selling Lip Kits, "I'm very excited to finally announce that Kylie Cosmetics will be in every single Ulta store on the 17th of this month. I'm going to be starting off with just my best Lip Kits first," shared the beauty mogul on her Instagram Stories.
But have no fear: The rest of her collections, like, say, the Kylie x Jordyn Collection or The Weather Collection, will (hopefully) become available shortly after, as she continued, "And then I'm going to be expanding and adding a lot more things super fast, so palettes and all that good stuff."
With this announcement of Lip Kits arriving at the giant beauty retailer, I'd say that means, come Nov. 17, customers can look forward to shopping — and testing — lipstick and lip liner duos, like the Candy K Lip Kit, the Charm Lip Kit, and the Koko K Lip Kit. Even better, this new announcement means that you no longer have to wait to receive your order in the mail every time you feel like purchasing a new lippie, instead you can just scoot on over to your neighborhood Ulta store to add to your Kylie Cosmetics collection.
Shortly after Jenner shared with her 118 million Instagram followers that they'll soon be able to find her products in Ulta, the beauty retailer also took to their Instagram page to confirm the news. "Peekaboo. 🙈 @kyliecosmetics is coming to ALL #ultabeauty stores, 11/17. 💋#kyliexultabeauty," reads the caption of their post, giving followers a look at one of the curated Kylie Cosmetics displays. As expected, most of Ulta's followers couldn't contain their excitement: "I'm going to be there first thing in the morning when they open I have to already get one," commented one follower. "Omg!! This is he best news ever!!!!" said another.
Not long after Stormi's mom announced that Nov. 17 would be the big day, she took to Instagram yet again to show off what her boyfriend, Travis Scott, did for her — which many believe was in celebration of the new retail partnership. Jenner's post the night of Nov. 6, revealed hundreds of red roses and dozens of lit candles lining the entryway, stairs, and dining room of her house. She captioned the post, "hell of a way to end the night 🌹♥️."
The announcement of a brand new retail partnership and receiving hundreds of roses all in one day? OK, maybe I'm just a little bit jealous.