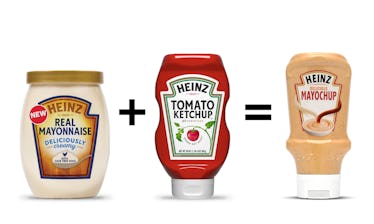 Mayochup Is Coming To The United States & It'll Be Here Before You Know It
Heinz
If you're all about staying up-to-date on the latest in condiment trends, you've probably heard a little something about Heinz's newest creation: Mayochup. And even though the bottled ketchup-mayo hybrid is only sold throughout Middle Eastern Gulf States right now, Heinz announced that it's making its way to the United States very soon. If you're wondering when Mayochup is coming to the United States, get your sammies and fries ready, because it'll be here within the year.
Near, far, wherever you are, there's a likely chance you've heard about Mayochup through all of its buzz via social media. Sadly, U.S. fans haven't yet actually discovered the wonders of Mayochup (it's devastating). Foodies across the pond have eaten mayo and ketchup as a dipping sauce for years and years — and as you know, Heinz' version is only sold in stores throughout the Middle Eastern Gulf States right now. It appears, though, that Mayochup is headed to this side of the world very soon. Heinz confirmed on Twitter that Mayochup is definitely coming to the United States in 2018. I can't — by any means — contain my level of excitement. Elite Daily reached out to Heinz for information about a specific release date, but did not hear back by the time of publication.
It all started when Heinz took a Twitter poll to see if U.S. fans wanted Mayochup in local stores. According to Heinz, almost one million fans ended up voting — and, as expected, the results showed a hard "yes" to bring Mayochup to the United States. Alas, my entire pantry is beyond ready for its highly anticipated arrival.
The taste of Mayochup is pretty self explanatory. It's a delectable combination of tangy ketchup and creamy mayo, and many claim that Mayochup tastes somewhat similar to Big Mac sauce, thousand island dressing, Whopper sauce, fry sauce (a Utah-based delicacy), and even fancy sauce (à la Step Brothers). Even though Mayochup's taste is pretty familiar, fans and sandwich-eaters alike are thrilled to finally have mayonnaise and ketchup sold together in the same bottle. It truly is a saucy, saucy miracle.
When U.S. fans voted for Heinz to bring Mayochup across the pond, the condiment company sprung a new creative opportunity for fans nationwide. It's letting people weigh in on alternative names for Mayochup. Through April 20, fans were able to propose new name ideas via Twitter. Although a name change hasn't yet been announced, I'm really hoping for fancy sauce.
Until Heinz brings Mayochup to the United States, there's a chance for you to enjoy all of your meals with a side of the highly anticipated dipping sauce. As you would probably imagine, making your own version is extremely easy. To do so, you can combine Heinz Ketchup with Heinz Mayonnaise. You can create your own "perfect blend," and decide on the best possible ratios. Making it requires just a little more work than if you were simply able to squeeze it out of one bottle — but until Mayochup is here, making it is definitely worth the extra time. The unique hybrid is delicious, and it's definitely hard to beat.
Waiting for something you truly love can be very hard, but I know the wait for Mayochup will definitely end up being worth it. Mayochup will be hitting U.S. stores oh-so-soon, and its arrival is going to be absolutely glorious. Even though it may have a different name by then, it'll still be the same delectable combo, and it'll make for the sandwich of a lifetime. While you wait for it, though, try making some on your own. Although it might not amount to that of Heinz's Mayochup, it'll most likely fill the creamy, sandwichy void until then.