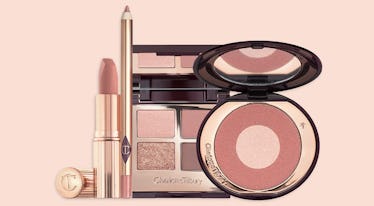 Charlotte Tilbury Is Expanding The Pillow Talk Range & The Products Are Pinky-Nude Perfection
Courtesy of Charlotte Tilbury
You know the phrase, "if it ain't broke, don't fix it"? Apparently, Charlotte Tilbury has revised it just a touch, approaching their latest collection with the following method in mind: If it ain't broke, don't fix it, but do expand on it! After the immense success of the shade "Pillow Talk" as both a lip liner and lipstick, the brand is taking the best-selling color and creating two more stunning, must-have products to complete what they refer to as the "Pillow Talk Look." If you're wondering when the Charlotte Tilbury Pillow Talk range will be available, get excited, because it's launching sooner than you think.
When heartthrob singer and former One Direction member Zayn released the song "PILLOWTALK" in 2016, I half expected it to be a love letter to the Charlotte Tilbury Lip Cheat in shade "Pillow Talk" ($22, charlottetilbury.com) mostly because the shade is so incredibly love letter-worthy. It's the only lip liner I've consistently used for years, and I've always got two or three of them sharpened and ready to go at the bottom of my purse or makeup bag. Zayn definitely missed the opportunity to create a lyrical panegyric to this iconic shade, but I'm here to pick up his slack and tell you why it's so fab — and why you need to mark your calendars for the launch of the newest Pillow Talk products, which hit the Charlotte Tilbury website on Sept. 6.
I'm not lying when I say I always have a few on hand, either, and mine are all sharpened down and well-loved:
The brand's iconic Lip Cheats are known for a formula that's equally creamy and long-wearing. In fact, before they launched the Matte Revolution Lipstick in "Pillow Talk" ($34, charlottetilbury.com), I could get away with filling in my lips with the liner alone and still have a gorgeous lip look to get me through the day. That's not to say I wasn't over the moon when they launched the lipstick, though, as it allowed me to stop going through so many liners, while still getting that perfect pinky-nude pout.
I'm not the only one who's got a thing for this shade: According to the Charlotte Tilbury website, the brand claims that one "Pillow Talk" lip liner or lipstick is sold every two minutes, based on their global sales figures for the lip products in 2017.
"It started with a dream. I wanted to alchemise that nude and pink, pout-perfecting color that I used to mix by hand," says brand founder and namesake Charlotte Tilbury. "It was a color unique to me — I knew I could bottle a 'suits-all' hue that would mimic the delicate rose-blush-skin hue, so one could trace over the natural lip line and enhance it effortlessly."
The "Pillow Talk" shade has had been my go-to "your lips but better" color for quite some time now, but honestly, the rest of my face has started to get jealous. What's a girl to do when she wants a full face of pinky-nude, pillowy, dreamy glow?
Hence my never-ending gratitude to the Charlotte Tilbury brand when I learned they'd be launching additional products inspired by the signature "Pillow Talk" shade.
So, what's new? The brand has picked two of their best-selling products — the Cheek to Chic Blusher ($40 charlottetilbury.com), and the Luxury Eye Palette ($53, charlottetilbury.com) — to be reborn in "Pillow Talk"-inspired shades launching Sept. 6. When used in tandem with the matching lip products, one can achieve the complete Pillow Talk look, and look like a pinky-nude, ethereal dream.
The new "Pillow Talk" Luxury Eye Palette features four airy yet sultry pink shades, which work together to create a flawless look when following the brand's "Prime, Enhance, Smoke, Pop" directions. To do so, start with the top left shade to prime all over the eye, and work your way around the palette in a clockwise motion to enhance the lid and socket, smoke out the outer third, and add a pop of glitter in the center of the lid to complete the eye.
The "Pillow Talk" shade of the Cheek to Chic blush is unique in that it doesn't follow the brand's signature "Swish & Pop" instructions like their other blushers. Instead of swishing on the outer circle shade and using the center shade to "pop" the apples of the cheeks, this blush opts for an updated version of the technique, dubbed the "Swish & Glow."
While the outer rim of the product is the iconic "Pillow Talk" hue, the inner circle is a pinky, gold-flecked highlighter shade, meant to be placed on the apples of the cheeks and brought up along the cheekbones. It's so pretty, it might just replace my Charlotte Tilbury Beach Stick in "Moon Beach" ($45, charlottetilbury.com), which, bear in mind, is the only blush that's touched my cheeks all summer.
I primed, enhanced, smoked, and pop'd my eyes, swish-and-glow'd my cheeks, and gave my lips the full Pillow Talk treatment. Not too shabby!
Please note how great the full Pillow Talk look truly is, with eyes, cheeks and lips achieving pinky-nude perfection. Paired with my Light Wonder Foundation ($46, charlottetilbury.com) I'm basically rocking a full face of Charlotte Tilbury, and I'm loving how it looks.
As a die-hard "Pillow Talk" fan, I'm endlessly excited for this collection to come out on Sept. 6. The entire range will be available on the Charlotte Tilbury website, but only the original lippies will be available at brand counters and stores worldwide, so you'll have to Add to Cart to snag the blush and palette. Charlotte Tilbury is one of the brands that I become increasingly obsessed with each time I try a new release, and both new products from the Pillow Talk range definitely make it on my list of favorites.