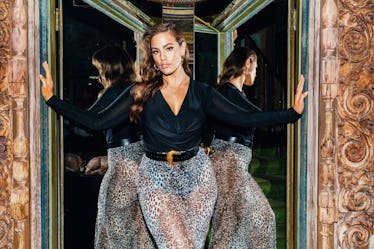 Ashley Graham & PrettyLittleThing Are Dropping A Sexy AF, Size-Inclusive Collab
There's no denying it, supermodel Ashley Graham is hot. She made a name for herself as a plus-size model, and now she's a fierce player in the fashion industry. The fashion model turned role model is now venturing into design, and the Ashley Graham x PrettyLittleThing collab is dropping so soon. It's going to be an epic, size-inclusive collection, so read up.
Graham has paved the way for many other plus-size, or "curve" models in the fashion and beauty industry. The 30-year-old signed a historic contract as a brand ambassador for Revlon, she created a plus-size denim line with Marina Rinaldi, an inclusive bathing suit line with Swimsuits For All, and TBH I'm just waiting for the day she'll walk in the Victoria's Secret fashion show. In the meantime, however, I'm beyond excited to hear that Graham is collaborating on a fashion collection with the über-trendy (and affordable) clothing company, PrettyLittleThing.
PrettyLittleThing began offering plus-size clothing earlier in 2018 and it has obviously, and unsurprisingly, paid off. "I am delighted to welcome Ashley Graham to the PrettyLittleThing family and to be working with such a fantastic role model for women," said Umar Kamani, CEO of PrettyLittleThing, reports Cosmopolitan UK. The brand has been lauded for offering stylish pieces beyond oversized tunics and muumuus, and shoppers can't get enough.
"We want to see #EveryBODYinPLT PLT starring @ashleygraham coming soon," tweeted the brand to announce the collaboration. There aren't many photos of the clothing yet but if Graham's sexy, sheet leopard print skirt is a hint of what's to come, it's going to be fire.
"Secret is OUT PLT starring @ashleygraham COMING SOON," posted the brand on Instagram. There's also a video of Graham excitedly announcing, "Secret's out, darling! I'm doing a collection with PrettyLittleThing. #EveryBODYinPLT." The hashtag for the collection drives the point home that with the inclusive range of sizing, it's really meant for everyone.
According to Cosmopolitan UK, PrettyLittleThing CEO Kamani said of the partnership:
Ashley embodies female empowerment and has worked exceptionally hard with our design team on curating a Fall collection suitable for all body types. At PLT we want to encourage confidence through fashion for all women...We want everyBODY to feel amazing in Ashley's range and be body confident.
Kamani noted that the clothing will range in size from 6 to 28, however PrettyLittleThing is a UK-based brand, so this may mean that it will range from 4 to 26 in U.S. sizing.
Graham also spoke to Cosmopolitan UK and shared her enthusiasm for the collection:
I have to say I am so excited about this collaboration with PrettyLittleThing because it is size inclusive and it is so sexy. It will take you girls effortlessly from day to night and this has been such an amazing experience curating a range for ALL women!
There's been no word on the pricing for the collection, but PrettyLittleThing is known for its affordability. Most of the brand's clothing retails for between $15-$50, and I bet Graham's pieces will be in line with that.
The collection drops on Sept. 24, sign up online at PrettyLittleThing to receive updates it!