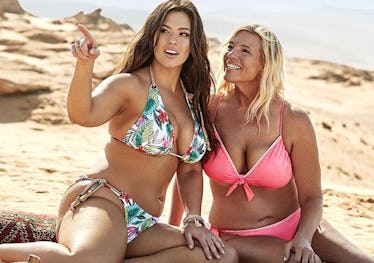 Ashley Graham Modeled Her New Swimsuit Line With Her Mom & It's Total Fam Goals
Swimsuits For All
Fashion campaigns hold so much power. Along with persuading consumers to invest in a brand or product, they also influence our perception of what beauty is, based on the models that appear in them. Which is why Ashley Graham's latest campaign, which she stars in alongside her equally stunning mom, Linda Graham, is so powerful. Now, everyone is wondering where to buy Ashley Graham's Swimsuits For All.
Not only does the swimsuit line represent inclusivity in terms of body type, but also in terms of age. It shows what the real world and real consumers actually look like (or what I dream of looking like, tbh) and doesn't perpetuate an impossible beauty standard by only featuring uber thin models who have barely reached adulthood. Beyond that, it's just straight up heartwarming to see Graham and her mom casually rocking rad swimwear together — I could only dream of having such badass family portraits with my mom.
The 13-piece collection featured within the campaign dropped on Feb. 5 and offers everything from printed bikinis to strappy one pieces to a lace-up crop top. Everything has a sexy and bold vibe to it and would be ideal for any tropical beach vacation. My favorite suit is a pink and maroon one-piece that has a cut-out on the stomach and back.
All of the styles are generally around $100 or less, so they won't break the bank, either. The collection is Graham's fifth collaboration with Swimsuits For All, which, according to their website, is a company "grounded in the idea of accessibility." Considering their sizes range from 4-34, I'd say they stick to their claim.
As Graham is a driving force and influential voice within the body positivity movement, it makes sense she would partner with a brand that celebrates and caters to women of all shapes and sizes. And as she highlights in a press release from Swimsuits For All, she credits her mom for shaping her self-love and confidence.
"My mom has been my role model since childhood and has played a vital role in developing my confidence. She promoted body positivity in our household before it was a movement. Her feel-good attitude toward her own body has shaped my ability to remain positive and self-assured. I could not think of anyone better to join me in celebrating beauty of all shapes and sizes in this campaign. Plus, she's hot and looks incredible in the suits."
Um, yeah. If I look like Linda Graham when I am older I will be the happiest woman alive. She rocks the heck out of bikinis and one-pieces alike, despite the fact she hasn't worn the former style in decades. "I haven't worn a bikini since the 80s!" she says in the press release from the brand. "I don't think I could have uncovered that inner strength without Ashley. That makes being a part of this campaign so much more special – she's my rock and inspired me at age 53 to be proud of my body again after I lost my own fortitude."
Shot in Morocco, the campaign, which is called "Power of the Journey," perfectly captures their supportive and loving relationship. The two are pictured embracing one another on the beach, sharing some tea, and kicking it with a super chill camel. (Literal family vacation goals.) It's so empowering to see two women build one another up and help one another become the best, most confident versions of themselves, and I can't help but think about how amazing of a world it would be if girls were taught to be confident in and love their bodies from a young age. That's why campaigns like these are so important, so beautiful, and so impactful.
Shop the entire collection at Swimsuits For All's site now, and next time you're on the beach, let the confidence of the Graham family inspire your own model moment.