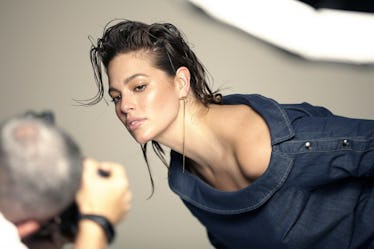 Ashley Graham Just Released A New Plus-Size Denim Line & It's Sexy AF
Marina Rinaldi
Jeans are a staple in pretty much everyone's wardrobe. Levi's, Tommy Hilfiger, Wrangler's, Lee—we've all worn a pair by one of those brands or another. But Ashley Graham's plus-size denim line, which she just dropped in collaboration with plus-size brand Marina Rinaldi, brings a whole new level of sexy cool to baby blues. Thanks to spot-on cuts, unexpected design details, and trend incorporation, the collection is a far cry from your favorite pair of bootcut jeans and is guaranteed to make you feel fire.
Graham, who as you certainly know by now is a model and strong voice within the body positivity movement, has been lending her honed eye to collaborative collections of all types as of late. She's co-designed swimsuits with Swimsuits for All and worked with Addition Elle on a line of gorgeous lingerie. In spring 2017 she signed on as a brand ambassador for Marina Rinaldi and the following year, for spring 2018, she became a design collaborator. This new collection with the brand is therefore her second, meaning it was conceptualized and executed with what worked well in the first collection in mind. Sleek, edgy, and sexy as only Graham could make it, it's a total knockout of a lineup.
"I couldn't find things that fit me the way that I wanted them to, and I couldn't find designs that made me feel special, that made me feel like a fashion girl. I'm not trying to walk down the street, accessorized in glam to the T every day, but I want to feel special," Graham explains in an interview with Glamour. The matronly look Graham says many designers stick to with their plus-size offerings is the exact thing she wanted to avoid when designing this collection alongside the Marina Rinaldi team. "The initial conversation was, 'Guys, if you want me, you know what you're gonna get: You're gonna get cool, you're gonna get sexy.' And they said, 'Yes, this is what we want and this is why we want you.' That was the initial, OK, we're all on the same page," she tells Glamour.
Take one look at the collection's offerings and you'll see Graham delivered exactly what she promised. Sleek, dark wash denim pieces that you could just as easily wear to the office as you could a night out dominate the lineup, which is amped up with touches of white hot cool via leather miniskirts and silky tops. Although the design team was receptive of her ideas from the get go, Graham did have to let them know that she wanted to create the collection completely from scratch and the ideas they'd already come up with needed to be reworked. "I was like, 'No, no, no, no, no, no—we have to change this, we have to move this.' It was making things, coming up with mood boards that weren't from previous collections…. I think what a lot of people do is they say, 'Oh, well this sold really well. Let's make another version of it.' I was like, 'No. We have to go to this completely—a new, clean slate,'" she tells Glamour.
One knockout piece from the collection is a black leather skirt featuring a thigh-high slit and overlap detail. Thought eh Marina Rinaldi was reportedly unsure about it in the beginning, Graham was persistent on its inclusion—a move that paid off. "I was like, 'Put it on the mood board, let's make it, let's see what the bosses have to say.' And sure enough, they made it, because they have faith," she says.
Another is a dark wash denim dress that features a notched collar, zip-up front, and tie waist belt. "It's so chic to me—you put it with a leather belt and a pair of leather booties and you can go out on the town, but you can also go to date night. It's very versatile and lightweight, but it's a fashion piece, something you would see Virgil [Abloh] make, maybe."
The collection ranges between $165 and $815 and while it's certainly not the most affordable new plus size line currently on the market, Graham hopes it will inspire other labels to follow suit and launch quality size-inclusive offerings of their own. "We're in a time where it's so new it has to be the headline," she told Glamour. "We need people to know that this is not a trend—this is something that's here to stay."