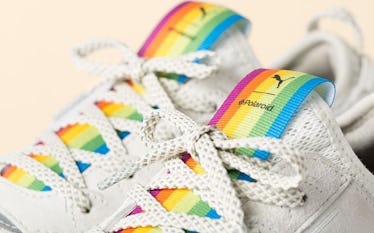 Puma & Polaroid Are Dropping Rainbows Sneakers & They're Full Of Throwback Vibes
Puma
The only thing better than a brand new pair of sneakers is a brand new pair of limited-edition sneakers. You must then be wondering, when do Puma x Polaroid Sneakers drop? The retro camera-inspired collection is so Instagram-worthy.
Puma is at the top of the sneaker game when it comes to collaborations. The Puma x MAC sneakers brought custom-colored suede shoes to match some of MAC's most popular lipstick shades. Selena Gomez teamed up with Puma for a fancy pair of kicks, Kylie Jenner worked with Puma as a brand ambassador, and of course, Rihanna's Fenty-Puma partnership is the gift that keeps on giving. The brand even created a line of Hello Kitty Puma apparel and accessories that featured everyone's favorite cartoon feline. The sneaker gurus have now teamed up with a slightly more retro counterpart for a new collaboration, and thus the Puma x Polaroid sneakers were born.
If you're concerned that Polaroids used to be in black-and-white and why would that be an exciting collaboration, fear not. Polaroid also does color photos and the camera company's logo is a millennial's dream: a rainbow. Along those lines, the shoes are predominantly black-and-white but with plenty of rainbow accents that really pop.
First, a quick refresher on an old Polaroid camera.
There have been more flashy, colorful versions, but the simple black exterior is what Puma's working with for inspo.
See that rainbow? Remember it.
According to Footwear News, "The lineup features new takes on the RS-0 and RS-100 styles, which are inspired by the classic OneStep camera and instant photography." Puma's RS-0 is the top sneaker in the above photo, and this version of it features a white top with a black rubber outer sole.
The shoe's tongue pays homage to Polaroid's rainbow logo and the inner sole of the shoe is reportedly red, which is "reminiscent of the camera's shutter button." The laces are flecked with silver, an ode to photographic processes of eras past, perhaps.
The sole of the RS-0 is full-on rainbow, to really get the crowd's attention. Just imagine a Boomerang with these bad boys.
The RS-100 sneaker has reflective strips at the toe, presumably as a reference to a camera flash. The tongue on this shoe also has the iconic rainbow strip and the soles look to be multi-colored, as well.
The shoes, unfortunately, don't come with a Polaroid camera, but in lieu of using a photo app to make your pics look vintage, why not use a Polaroid camera for the real thing?!
The OneStep 2 Viewfinder i-Type Camera is one of the products featured in the collab's promotional content. This vintage-style camera uses actual Polaroid film — iType film ($16-$17; polaroidoriginals.com) or the classic 600 film ($19-$20, polaroidoriginals.com) — both of which come with a variety of fun-colored and printed themes.
This modernized polaroid camera instantly prints out your snapshots on Premium Zink Paper ($9; amazon.com) – no developing required.
Footwear News reports that the RS-0 will retail for $130 and the RS-100 for $100, and that shoes will be released in Europe in early September, with a U.S. release date to follow soon.
Keep your eyes peeled and your cameras ready.