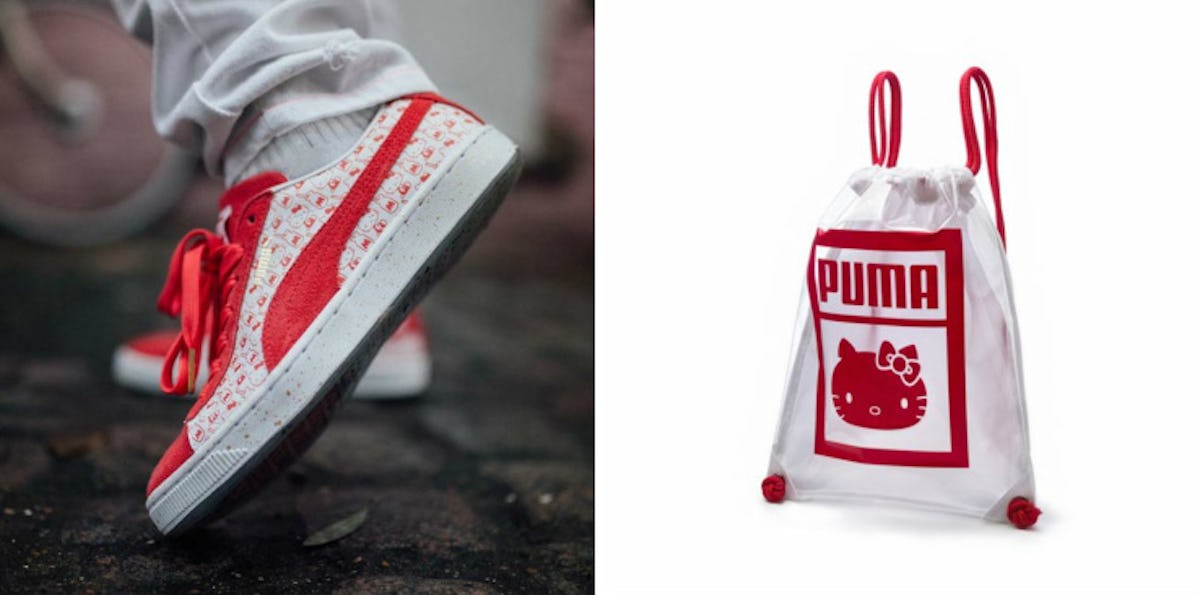 Puma x Hello Kitty Merch Drops Just In Time To Be Your Valentine & It's 100 Percent Adorable
Puma
I don't know what was in the suburban water, but growing up, every girl I knew was obsessed with Hello Kitty. Like, were you even a Long Island pre-teen if you didn't have at least one Sanrio item in your arsenal? Probably not, and that's why an entire generation is wondering when Puma x Hello Kitty Sneakers drop. Nothing says #TBT like a pair of Hello Kitty sneakers on your feet.
During the early '00s, it seemed like everyone owned something Hello Kitty related. I was super obsessed with the brand because I always saw pictures of people abroad wearing Hello Kitty regalia, and having it myself just felt insider-y and cool. And now, just in time for Valentines day, Puma and Hello Kitty have fulfilled all of our dreams and teamed up for the ultimate release.
Called the Puma x Hello Kitty For All Time collection, the brands linked up to design a sneaker just in time for Puma's Suede 50th Anniversary. Arriving on Feb. 8, the Puma X Hello Kitty Suede Sneakers are not only apart of the Puma and Hello Kitty collaboration, but they're also featured as one of the 50 exclusive suede sneaker drops that will be released over the course of 2018.
To celebrate suede's 50th anniversary, Puma has collaborated with music icons, street style stars, the fashion industry, and pop culture legends. Check out the collection below, you might even snag some #inspo for your V-day look.
The Hello Kitty Sneaker Of Your Dreams
These sneakers are so cute because not only are they the classic suede sneaker, but they come in an infant, JR, and preschool size as well. Nothing says baby fever like matching shoes!
The Just Keeping It Casual Graphic Tee
Ok, you may not need another pair of sneakers in your wardrobe, but this cotton jersey tee is perfect for all occasions. Whether you throw a denim jacket, cardigan, or a bomber on, this shirt could be super versatile in your closet.
The Ultimate Cozy Girl Hoodie
I'm personally bummed they didn't include a crew neck sweatshirt because that's my favorite style, but you can't knock a solid hoodie either. You'll be snug as a bug (kitty) in a rug (hoodie).
The I Look Like I Wasn't Binge Watching Netflix Pants
Everyone has those pants in their wardrobe that look hideous. There's pizza grease stains, pen marks, and splattered wine on them. You can't run to Trader Joes in them though, because you're bound to run into a coworker or even worse the finance hottie in your building. These are the perfect substitute ladies.
The Not Your Brother's Nike Backpack
Currently, I'm hiding my brother's Nike backpack in my room because it's so much easier to commute with instead of a tote bag that hurts my shoulder. This backpack is like an elevated version of that, and PVC is a huge trend for 2018.
The Throwback Field Trip Bag
The translucent theme is very much on trend this season, but this type of sports bag is a total throwback. The year was 2004, you had ten of these, and each one had a purpose. Simpler times indeed.
The Not Your Dad's Dad Hat
I was obsessed with the sneakers, but this hat is so adorable! I love how it's like baseball cap, but then it has that clear visor. It's bright and cheery and will disguise the fact that you haven't washed your hair in a week.
If the Hello Kitty collection isn't up your alley, Puma also dropped a Valentine's Day pack collection that features 19 products. But TBH, if you don't like Sanrio, get out of my article.