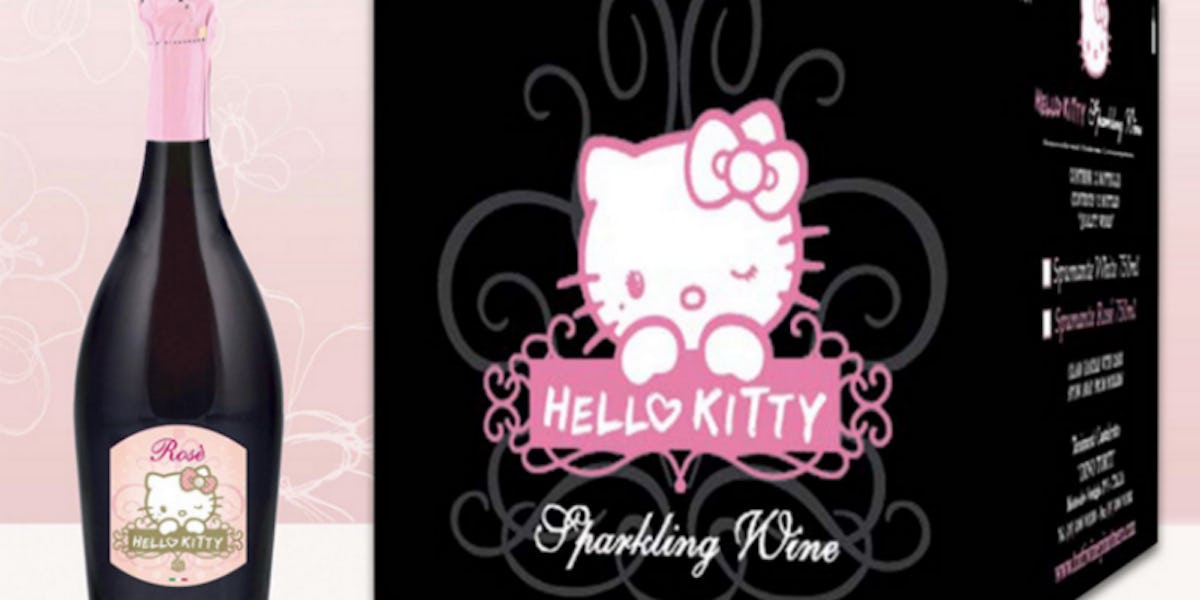 Hello Kitty Wine Actually Exists To Make All Of Your Rosé Dreams Come True
Would you get drunk off of Hello Kitty wine? I would... Nothing would make me feel more "Kawaii."
Now, before you say,
Let me just tell you that being cute and drunk is something many people strive to be. So, thank you Hello Kitty.
You are doing us all a solid.
Sanrio and Italy's Torti Winery have formed an unlikely pair to help create a wine that truly captures the cute cartoon cat's essence.
Torti Winery has rolled out a number of different kinds of wine to slap Hello Kitty's adorable little face on.
Tragically, you will now realize Hello Kitty has no mouth and therefore... cannot enjoy any of these wines.
If you don't want to commit to an entire bottle or case of Hello Kitty wine and find yourself in Santa Ana, California, you can try out a glass of the rosé or white at Antonello.
While the "Buy" links don't currently work, I can give you a break down of all the different types. I am, after all, a sommelier.
There's Sweet Pink.
Composed of Chardonnay and Pinot Nero in white grapes, the Sweet Pink is surely to be a wine that makes you say, "Mmm, yeah, that does taste like the color pink."
It is suggested you eat fruits and sweet desserts with this wine, which boasts an "elegant floral fragrance" and almond reminiscence. (Or is that the cyanide your partner is attempting to poison you with?)
You'll definitely want to try Cupido.
This sparking white wine is made with 100 percent Pinot Nero grapes and pairs well with fish, sushi and shellfish, which I have just been informed cats love.
Good one, Hello Kitty.
Let's not forget about Rosé.
Also made with 100 percent Pinot Nero, this rosé has a light pink color and sweet flower scent with a light spice.
It has a pleasant reminiscence of yeasts and bread crust, that will remind you of your childhood when your mother told you to stop stooping with the pigeons at the park when old people would throw them bread crumbs.
Why not buy the Rosé Collection?
I honestly don't know what the difference is here, besides that very classy necklace.
I think we can all get behind Charmy.
While tasting this wine, you'll notice yourself enjoying the long-lasting back taste, but mostly you'll pay attention to the pleasing body.
And no, I don't mean my pleasing body, although I have been told it is, in fact, very pleasing.
And finally, there's Lady.
Mmm, my favorite flavor of wine... Lady.
You can attempt to buy these adorable wines here, whenever the "buy" button goes live.
Until then, let us cheers with our not-so-cute booze.
Citations: Say hello to Hello Kitty wine (Mashable)