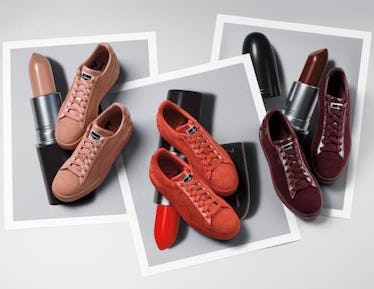 MAC Cosmetics x Puma Sneakers Are Coming, So You Can Match Your Kicks To Your Lips
MAC
People have matched their bags and shoes for decades, "adulting" is matching your underwear to your bras, and nothing says young love quite like matching couple outfits.
Puma and MAC are changing the game by introducing stylish suede sneakers that match MAC lipsticks. I've seen just about anything and everything when it comes to matching items, but matching your lipstick to your kicks? That is on a whole other level. So when do the Puma x MAC sneakers drop? Well, these bad boys are coming just in time for you to soak up the summer sun with them. And trust me, these matches were made in heaven.
MAC and Puma have decided to collaborate to launch three special edition suede sneakers in honor of the most iconic MAC lipsticks. The collab will mark the 50th anniversary of the release of the classic suede sneaker by Puma. The special edition shoes will match the colors of some of MAC's most iconic lip shades: MAC's "Lady Danger" ($19, maccosmetcs.com), a standout coral red; MAC's "Sin" ($19, maccosmetics.com) a dramatic burgundy shade; and MAC's Crème d'Nude ($19, maccosmetics.com) a peachy beige nude.
Beginning May 17, for a limited time only, Puma x MAC Suede Design Sneakers ($90, us.puma.com) will be on sale on Puma's website, and they'll even feature the MAC logo on the shoe's tongue. Unfortunately, you don't get a matching lipstick with your purchase of the shoes, meaning you'll have to purchase those shades separately.
The "Crème d'Nude" sneaker will reportedly have coral-colored laces, a rose gold #PUMAxMAC logo, and a rose gold outsole, according to Teen Vogue. The suede on "Lady Danger" will be a "bright red-orange suede" with laces to match and a bright red outsole. Lastly, the "Sin" sneaker will have a stunning "satin effect."
This isn't the first we've heard of MAC having a big collaboration in the works. Back in November 2017, MAC teased that they would be collaborating with Puma, with just a mysterious Instagram post, captioned, "Your favourite hues take a big step in a whole new direction! Stay tuned for a kickin' collaboration, coming soon to the US." Of course, no one had any idea of what the collaboration would look like back then, but that didn't stop fans of the brand from going wild over the news.
Thankfully, though, the designs have been revealed, and they're seriously gorgeous as ever.
Crème d'Nude
Lady Danger
Sin
This isn't the first time that either brand has collaborated with out-of-the-box powerhouse companies. In the past couple of months, Puma has worked with Selena Gomez and donated $100,000 of the sales to the Lupus Research Alliance, continued their partnership with Rihanna, and even launched a Hello Kitty capsule collection. The collection featured shoes and clothes in shades of red and white with the iconic cat's face emblazoned on the designs.
MAC also thrives on collaborations in and out of the beauty industry. Not long ago, the brand launched a collection with Nicopanda makeup. They also teamed up with beauty guru Patrick Starr for a collection, and they're launching a MAC Aaliyah collection come June 2018. Personally, I'm having a hard time waiting for that release. Aaliyah was and is everything!
This isn't MAC's first foray into expanding their collections and collaborations outside of the makeup realm either. MAC launched a line of six fragrances in November 2016, which were also inspired by some of MAC's most iconic lipstick shades, just as the new Puma x MAC collection is. Luckily for all of us, you can still purchase the Shadescents kits ($57, maccosmetics.com) on MAC's website.
Remember, if you're in the U.S. and you want to snag a pair of the special-edition Puma x MAC shoes, hit up the Puma website on May 17, 2018, as well as certain shoe retailers.