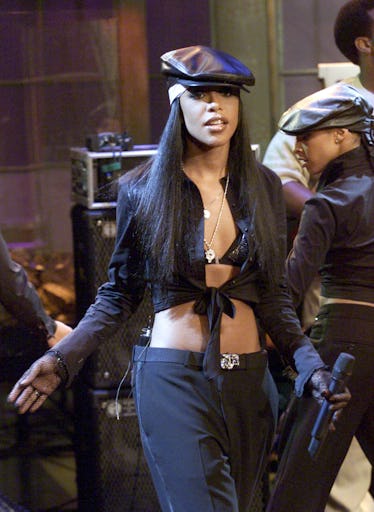 MAC Revealed The First Products From The Aaliyah Collection & '00s Kids Are Swooning So Hard
Kevin Winter/Getty Images Entertainment/Getty Images
When it comes to the much-anticipated makeup collections that have been announced for 2018 thus far, one shines brighter than the rest for its bonafide star power. And finally, clues as to what's in MAC's Aaliyah collection have been released, cementing it as the coolest impending beauty offering around. Even if you're not an avid fan of the R&B legend or don't know much of her music, you'll definitely want to get your hands on these products that she inspired. It's no secret that Aaliyah inspired an entire generation sonically and sartorially, and she continues to do so today.
The collection was initially announced via an Instagram post in August of 2017 but until recently, no other details had been released. "Aaliyah is truly one in a million — an unstoppable icon whose groundbreaking work in R&B music and film inspires us all. Today we join her countless fans in celebrating her with the announcement of the M·A·C Aaliyah collection. You made it happen! Stay tuned in 2018. #AaliyahforMAC," read the initial post.
Indeed, fans truly were the driving force behind the collection which, like the MAC x Selena collection, started out as a Change.org petition. "As a huge MAC fan & consumer of their permanent line & limited edition collections, we want MAC to be the first brand to reintroduce Aaliyah's legacy to the world in a format that it has never been given before," reads the petition. "Aaliyah's brother Rashad Haughton says that Aaliyah was a big fan of MAC."
According to the petition, Haughton revealed that Aaliyah's favorite MAC products included lipsticks in both Chelsea (brick red) and Cherish (pink-beige), lip liner in Chestnut (chocolate brown), and eyeshadow in Espresso (dark brown). After the petition received 26,200 signatures as well as additional support from Aaliyah's friend Missy Elliot and her makeup artist Eric Ferrell, the collection was confirmed.
But it wasn't until recently that the exact launch date was revealed. According to a tweet from MAC, the collection will drop on June 20 online and June 21 in stores, nearly an entire year after it was confirmed. Now that's a build-up! What's more, MAC is partnering up with i-D to create a film celebrating the singer's legacy. Called the "A to Z of Aaliyah," it will be cast via Instagram. All fans have to do is post a video or photo showing how Aaliyah has inspired them to social media using #AtoZofAaliyah and #AaliyahforMAC to have their submission considered. Top submissions will be flown to New York to be part of the video.
The video announcement was exciting enough in itself but when MAC revealed the first two products from the collection, I think every single R&B and beauty fan let out a squeal of delight.
First up to be announced was a shade of light brown lipstick that I can absolutely picture Aaliyah wearing. "Guess which song inspired this colour!?" MAC teased in the Instagram announcement.
Next up was a nine-shade eyeshadow palette that features both matte and shimmery shades, alike. From a plum purple to a glittery gold, it's got everything you could want for the perfect '90s-inspired look. "Which music video do you think inspired these shades?" asked MAC in an Instagram post.
We'll likely have to wait until the collection drops to be officially filled in on which song and music video did indeed inspire the above products, but until then, you better believe I will be listening to "Rock the Boat" on repeat. There's no doubt in my mind that if Aaliyah was still here today she would still be a vanguard in terms of music, beauty, and style, so what better way to honor her legacy than to channel her timeless look?