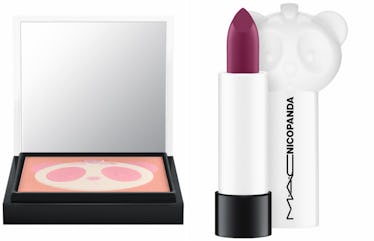 MAC Is Dropping A Panda Makeup Collaboration & Every Single Piece Is Peak Adorable
MAC Cosmetics
If you've kept current with your beauty news in the past 24 hours, then you may know that MAC Cosmetics is teaming up with designer Nicola Formichetti to release a new collection that you will need in your makeup arsenal. When does the MAC x Nicopanda makeup drop, you might ask? The answer is soon...but not soon enough. Just wait till you hear what cuteness this collection has in store! Your patience will be tried.
TBH, the MAC x Nicopanda collab will fill a void we didn't even know we had. After lines with Patrick Starr, Mariah Carey, Caitlyn Jenner, and more, a healthy dose of sheer fun from the brand was necessary. Jeremy Scott broke the ice, bringing us whimsy and color with his DJ and music-themed MAC collection. The palettes looked like stereos, mixtapes, and CDs, and featured bright, bold hues that Mariah Carey would never be caught dead in. The Scott launch was for the loud, outgoing girl who rather be out dancing than curling up with a good book. Now, thanks to the MAC x Nicopanda collection, we've got something for the cute and cuddly queen who still loves fashion and color, but in the adorable kawaii millennial kind of way.
If you're unfamiliar with Nicola Formichetti, I promise you you're familiar with his work. Formichetti has been the very definition of fashion since 2010. He was the creative director of Mugler, the fashion house known for its modernism and alien-like creations. When he left Mugler in 2013, he signed on as Diesel's first artistic director. Most importantly (in my opinion), he helped to define Lady Gaga's look during her iconic "Born This Way" era.
In fact, it's partially thanks to Gaga that Formichetti developed a relationship with MAC Cosmetics in the first place. As Formichetti told Teen Vogue in an exclusive interview:
I've been collaborating with MAC for a long time, working on their campaigns and projects for years. They have always been very supportive of me and my creativity. It was a natural progression to create product together with Nicopanda. They are like family, and we really trust each other."
According to Teen Vogue, the line will be littered with pandas, in honor of Formichetti's streetwear line Nicopanda. Three-dimensional panda heads will top the brushes and glosses, while illustrations of the Nicopanda logo will decorate the other products.
If you're a sucker for packaging, like myself (I once bought a powder from Tony Moly that didn't match my skin because the compact was a cat), then you're in danger, girl.
From the few promotion images available, it's clear to see that the collection will be very millenial (just clock that millenial pink eyeshadow hue) and painfully cute. The hues are "as nontraditional as they are wearable," which is a tough balance to strike.
They're not as bright as the neon and primary hues of the Jeremy Scott collection, but they are just as saturated and pigmented with a softer pastel flavor. These shades might not be for the faint of heart, but you also don't have to be strutting down the runway to wear them.
In addition to face kits, matte lipsticks, lip glasses, brushes, face powders, and lashes, this launch will also include glittering face stickers. There are hearts, bows, flowers, "OMGs" and, of course, pandas. Now you can complement your iridescent lip glass with glittery purple flower petals.
Unfortunately, waiting for this launch is going to be a real exercise in patience. The collection will be available starting Apr. 5 on the MAC website and won't be available in stores until Apr. 11. I'm fully aware of the fact that I've lived my whole like without sparkling face stickers, but now I'm not sure how I'll live another month without them.