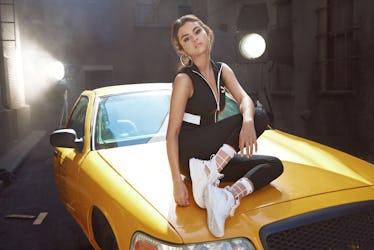 Selena Gomez Is Dropping A New Collection With Puma & It's So, So Personal For The Star
Puma
It's early springtime again, meaning it's time to give your closet a major seasonal refresh. If you've been on the hunt for the perfect pair of white sneakers to pair all of your flirty florals with, look no further. Selena Gomez's Puma shoes include a pair of kicks that perfectly combine sporty chic and subtle glam, meaning they're perfect for everything from a trip to the grocery store to a fancy brunch out with friends. Leave it to Gomez to expertly curate effortless cool.
Do you remember when, about four years ago, white Stan Smith Adidas sneakers took the fashion world by storm? You couldn't look through a slideshow of fashion week street style photos and not see a pair pop up every third snap, and designers — including Yohji Yamamoto and Jeremy Scott — have given the shoe their own spin. People went nuts for the style because of their versatility, among many other reasons — wear them with literally anything and you're bound to look cool. There's nothing like a pair of sleek white sneakers — which is what makes Gomez's new collaboration so covetable.
Although she's served as a face of Puma before, the singer-slash-most-followed person on Instagram-slash epitome of goals has never worked with the brand on an actual product until now. For her debut offerings, Gomez designed a pair of — you guessed it — all-white sneakers, as well as a pair of socks. Called the Phenom Lux, the shoes have a silhouette more similar to a classic running shoe and feature cutouts, gold accents, and a removable ankle bracelet — a gold chain that Gomez said "makes me feel womanly and makes me feel cool. It gives you a little bit of sparkle, and it can make you feel like you're dressed up even when you're in sweats," in an interview with Vogue.
The socks, meant to be worn with the sneaker, feature sheer panels, giving them a windowpane-like effect. "I've been wearing some fun socks with my sneakers and it just makes me feel a little bit more feminine," Gomez said. "I spent a lot of time creating a sock that felt comfortable, chic, and fun."
Considering she's been championing the casual shoe trend for sometime, it makes sense she'd want to design an ideal pair of her own. "I've become super into my way of wearing sneakers," she told Vogue. "I also wear my sneakers with dresses, things that feel pretty." Case in point: an outfit she wore to Coachella in 2017, which consisted of a sweet blue sundress by HVN and a pair of white sneakers. She looked stylish, crisp, and somehow like she spent no time at all putting her perfect look together.
Gomez has already been spotted wearing the new Phenom Lux sneakers out and about, despite the fact that they don't drop until April 6. In November, Gomez arrived at a black-tie benefit gala in the style for a very good reason. The gala was held for the Lupus Research Alliance, and Puma has pledged that $100,000 from sales of Gomez's collaboration will go toward the nonprofit, which aims to find a cure for the autoimmune disease. Gomez revealed in 2015 that she's been battling lupus, and has since undergone chemotherapy and a kidney transplant in efforts to treat the disease.
If you, like Gomez, have an extensive sneaker collection — the singer evidently has around 50 pairs in an array of styles and shades — why not add one more? "My hair, my clothes, my shoes — it's always a reflection of what I'm feeling for that day," Gomez told Vogue. Right now, she's feeling sneakers. "They're definitely dominating. My security [staff] wears them, my best friends wear them, and it just feels easy." Effortless, stylish, and philanthropic to boot? Shopping for good, indeed.
To support a great cause and channel Gomez's preternaturally chic style, peep The Phenom Lux sneakers ($110; puma.com) and socks ($14; puma.com) on Puma's website come April 6.