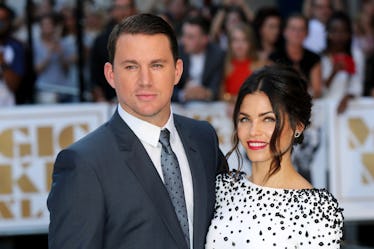 Channing Tatum & Jenna Dewan Reportedly Split Up Months Ago & I'm Sobbing
Tim P. Whitby/Getty Images Entertainment/Getty Images
Channing Tatum and Jenna Dewan are over. The couple announced they have "lovingly chosen to separate as a couple" on Monday, April 2, in a joint statement released on their social media accounts. They first met in 2006 when they co-starred in Step Up, were married by 2009, and welcomed daughter Everly in 2013, but after nine years of marriage, they've decided to go their separate ways. Their statement made it seem like this was a recent decision by the couple, but when did Channing Tatum and Jenna Dewan break up? Sources close to the couple have revealed that Tatum reportedly moved out of the couple's home months ago, which means they've reportedly been split up for a while and we're just now learning of it. Elite Daily reached out to Tatum and Dewan's teams for comment on this new report, but did not hear back by the time of publication.
Multiple sources reportedly told People that the couple ended things a while ago. "This has been a long time coming," one source said. "Like any marriage, they've had their ups and downs over the years but they really started to grow apart within the last year." Say it ain't so!
It read,
We have lovingly chosen to separate as a couple. We fell deeply in love so many years ago and have had a magical journey together. Absolutely nothing has changed about how much we love one another, but love is a beautiful adventure that is taking us on different paths for now. There are no secrets nor salacious events at the root of our decision — just two best-friends realizing it's time to take some space and help each other live the most joyous, fulfilled lives as possible. We are still a family and will always be loving dedicated parents to Everly. We won't be commenting beyond this, and we thank you all in advance for respecting our family's privacy.
Fans were heartbroken by this latest celebrity couple breakup. Some were saying it reminded them of Chris Pratt and Anna Faris' split in 2017 because they also announced the breakup on social media. The general conversation about this on Twitter now is that we must protect Emily Blunt and John Krasinski at all costs and Twitter. Is. Right.
Well, look no further than Jenna Dewan's February interview with Health Magazine. In the interview, Dewan said it's really frustrating for her when people say they have a perfect life, marriage, the works. "When people say you guys have such a perfect life, I want to scream and tell them no one's perfect," she said. "I think there are such things as great fits. It is a great fit as long as you are growing together, and I think up until this point we've really grown together. Even if one starts to grow, the other catches up and vice versa."
She continued,
But I think a couple needs to be conscious and to want to do the work and be willing to look at the parts of you that need work. Both of us have been pretty aware and willing to do that. We've always had the same values. But we're not perfect! Are you kidding? We fight like other couples, we disagree about things, we have days where we don't really like each other.
If the reports of their split happening months ago are true, that means Jenna Dewan's quotes about her relationship with Channing Tatum from this interview were said after they had already split. Given that, it's understandable why Dewan said that people claiming she has the perfect marriage makes her want to "scream" — she had a secret that proved otherwise.