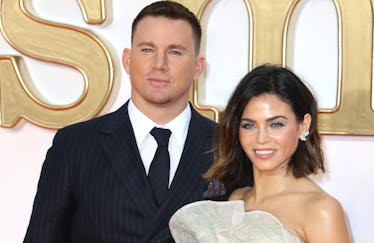 These Clues Channing Tatum & Jenna Dewan Were Splitting Have Me So Emotional
Step Up is ruined forever. Just kidding, that movie is and always will be iconic and beyond reproach, but its stars are splitting up and the dancer in me is heartbroken over this news. Channing Tatum and Jenna Dewan announced in an Instagram post on Monday, April 2, that they're splitting up after nine years of marriage. The announcement was very heartfelt for two people breaking up, but the internet was still shocked by the news because this is one of those celebrity couples that always seemed solid. Did we miss the clues Channing Tatum and Jenna Dewan were splitting? What's going on here?!
Tatum and Dewan released a joint statement that they posted to their respective Instagram and Twitter accounts on Monday, April 2. The statement read,
We have lovingly chosen to separate as a couple. We fell deeply in love so many years ago and have had a magical journey together. Absolutely nothing has changed about how much we love one another, but love is a beautiful adventure that is taking us on different paths for now. There are no secrets nor salacious events at the root of our decision — just two best-friends realizing it's time to take some space and help each other live the most joyous, fulfilled lives as possible. We are still a family and will always be loving dedicated parents to Everly. We won't be commenting beyond this, and we thank you all in advance for respecting our family's privacy.
Fans were heartbroken by the announcement.
One person's pretty pleased, though.
Always look on the bright side, I guess? I've scoured through Tatum and Dewan's Instagrams and I think I've found some solid clues that this breakup was coming. Jenna Dewan has posted a lot of inspirational quotes to Instagram over the last several months. Most of the quotes are about persevering through hard times and self-reflection.
Like this post from March 2, for example.
The post is a quote from Rumi (the poet Beyoncé and JAY-Z named their daughter after) that reads, "Dance, when you're broken open. Dance, if you've torn the bandage off. Dance in the middle of the fighting. Dance in your blood. Dance when you're perfectly free." Dewan could've just posted this because she's a dancer, but she could also relate to it because it basically says to dance and find joy through the hardest parts of your life. And your marriage coming to an end after nine years is definitely a hard part of life.
There's also this post from March 22, which is another quote from Rumi.
It says, "The morning wind spreads its fresh smell. We must get up and take that in, that wind that lets us live. Breathe before it's gone." Dewan's caption on the post read, "Life is quick. Breathe, go for it." Look, y'all, I am all about therapy and self-help, so I know self-care when I see it. These quotes make it seem to me that Dewan was going through some troubling experiences of her own and she wanted to help her fans and herself by posting this quote. Going through one of the biggest changes of your life isn't easy. One of the keys to coming out on the other side of it more evolved than you were before is allowing yourself peaceful moments like the ones this poem describes.
Based on Dewan's introspective Instagram posts, I think it's safe to assume her life has been going through a lot of changes before her and Tatum's announcement on April 2. But that's just me! Another possible clue Tatum and Dewan were struggling could be found in the fact that they haven't posted much about each other in 2018.
Tatum posted this selfie of him and Dewan on March 18, 2018.
He captioned the post, "This is what it looks like when a little tyrant fairy artist holds you down and makes your face look 'better.'" First of all, their daughter Everly has a serious talent for face painting. Second, this is the only photo Tatum has posted of him and Dewan so far this year. But he admittedly doesn't post that often, so this might not be the biggest clue on the planet. However, Dewan hasn't posted much about Tatum, either.
She posted a photo of a card Tatum and their daughter made for her when World of Dance got renewed for Season 2.
It's a super sweet card, but Dewan and Tatum used to post some steamy photos of each other, so the lack of those posts could be a clue things weren't perfect.
One last (and possibly big) clue about this breakup is that Jenna Dewan once said in an interview that their marriage isn't perfect.
She told Health Magazine in February of 2018, "When people say you guys have such a perfect life, I want to scream and tell them no one's perfect." She continued, "We've always had the same values. But we're not perfect! Are you kidding? We fight like other couples, we disagree about things, we have days where we don't really like each other."
Whatever the reason behind their split, their announcement makes it clear that they still love each other a lot, and the Step Up fanatic in me is grateful. Tyler and Nora 4 ever </3.