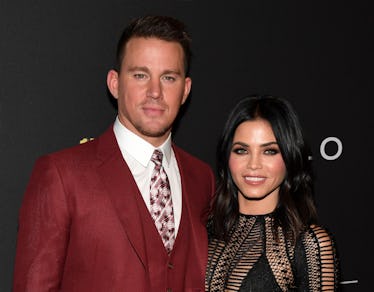 Twitter Is Sobbing Over Channing Tatum & Jenna Dewan's Split & Seriously, Same
Ethan Miller/Getty Images Entertainment/Getty Images
I'll be honest: I have a habit of living vicariously through celebrity couples. In my mind, I'm there through the ups and downs, the birthdays, the childbirths, the vacations — you name it. (And I don't feel bad about how strange that sounds.) That's why it really makes my heart wilt when couples who have been together forever decide to go their separate ways. I bet you can imagine how I feel about the latest Hollywood breakup, or if you can't, the tweets about Channing Tatum and Jenna Dewan's breakup are literally every emotion I've gone through since the news broke.
On April 2, both Tatum and Dewan posted messages to their individual Twitter accounts that announced that the pair had decided to go their separate ways after nearly nine years of marriage. The joint statement said they had "a magical journey together," but are on "different paths for now."
Part of the message read,
We have lovingly chosen to separate as a couple. We fell deeply in love so many years ago and have had a magical journey together. Absolutely nothing has changed about how much we love one another, but love is a beautiful adventure that is taking us on different paths for now. There are no secrets nor salacious events at the root of our decision — just two best-friends realizing it's time to take some space and help each other live the most joyous, fulfilled lives as possible. We are still a family and will always be loving dedicated parents to Everly. We won't be commenting beyond this, and we thank you all in advance for respecting our family's privacy.
Twitter users immediately fired back with messages to express just how heartbroken they were over the demise of their relationship: Some claimed that they didn't believe in love anymore. Others maintained that there wasn't an ounce of hope left for them to find their own soulmate. And then there are others like me (and probably you, too) who are in complete denial over this whole thing.
One user, however, had another idea.
You might be on to something, @kaleapottle_...
The couple met in 2006 while working on Step Up, a teenage rom-com about two dancers who fall madly in love with each other. They started dating shortly after, wed in 2009, and welcomed a daughter, Everly, in 2013.
It wasn't really until this past March when rumors about the status of the couple's relationship started buzzing after Dewan attended theVanity Fair Oscars after-party alone. But she insisted to Entertainment Tonight that Tatum was at home on daddy duty with Everly and was "so happy to have a night off."
However, back in February, Dewan also told Health magazine that she and her husband definitely have their ups and downs and days where they "really don't like each other." She said,
When people say you guys have such a perfect life, I want to scream and tell them no one's perfect. I think there are such things as great fits. It is a great fit as long as you are growing together, and I think up until this point we've really grown together. Even if one starts to grow, the other catches up and vice versa.
...But I think a couple needs to be conscious and to want to do the work and be willing to look at the parts of you that need work. Both of us have been pretty aware and willing to do that. We've always had the same values. But we're not perfect! Are you kidding? We fight like other couples, we disagree about things, we have days where we don't really like each other.
Maybe they'll be "conscious" and "aware" enough to get back together and wing their relationship out? Probably not, honestly — it seems like this decision was made thoughtfully and with love, which is the best you can ask for from a breakup. IDK, but you can't blame me for trying to keep the love alive.