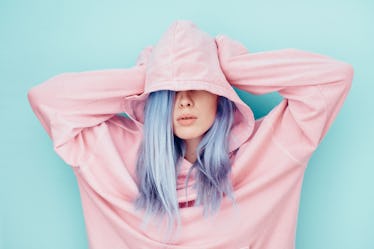 8 Women Spill All The Juicy Details About The Most Creative Sex They've Ever Had
Creativity is the spice of life, and for many women, it's also the spice of their sex life. Even if you're a pretty sexually active person, some memories will be less-than-memorable, while others, like the most creative sex you've ever had, will stick in your memory forever.
When it comes to creative sex, everyone has a different idea of what that looks like, which is kind of the best part! Whether spicing things up in the bedroom means planning out a long-lived fantasy or being spontaneous and saying, "Why not?" when opportunity knocks, there are no wrong answers, and no shame in the sex game. Creative sex can be seriously epic and stick with you forever in your fantasy bank. Maybe the most inventive sex you've ever had happened last week or several years ago. Whenever it was, you might have had to think on your feet (or back) to pull off such an adventurous hookup.
If you start reminiscing about your previous sex-capades, there's probably at least one that comes to mind that's a little more imaginative than the others. But if you can't think of one, no worries, 'cause I talked to eight women, who gave me all the deets about the most creative sex they've ever had.