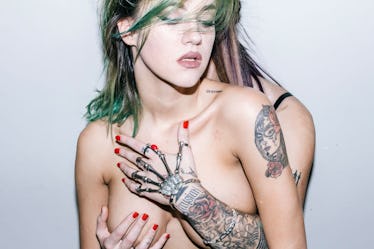 3 Sex Moves You Need To Try This December For The Most Festive Romp Ever
Even though it's a full 31 days, sometimes it seems like December is the shortest month of the year. Between the end of year assignments at work or school, holiday parties, travel plans, gift shopping, and so on, making time for yourself can be a serious challenge. If you and bae are in the same boat, it may be easy for your usually hot sex life to get, well, kinda cold in the winter months. Because of this you may want to spice up more than just your morning lattes. Here are some December 2018 sex moves to keep your chestnuts roasting over an open fire — if you know what I mean.
When it comes to getting creative in the bedroom, there are a lot of ways that both of you can end up on the naughty list this year. For instance, this season is stacked with sales on sex toys if you were thinking about surprising your partner with a gift that keeps on giving. You could also discuss things that you want more of in your sex life together, whether that's more creative foreplay or trying something new, like a different position. Whatever you both decide you want to try, winter's chill will clearly not affect how hot things get between you two.
If you want some ideas on how to get creative this December, check out the following sex moves which are guaranteed to get you coal in your stocking.